---
Introduction
For some people, Virtue Stats is an important mechanic in the game. Without high enough Virtue Stats, you wouldn't even be able to talk to your favorite NPCs! How else are you going to get Sasha into your stronghold?! So this guide is here to answer that question; "How Do I Increase My Virtue Stats?". Your current Virtues,

Wisdom,

Courage,

Charisma, and

Kindness are viewable in your character window in the 2nd tab. Virtue Stats are not only used for progressing Rapport NPCs, but also to access certain Mokoko Seeds and to progress certain quests. Virtue Stats can be acquired through Quests, Skins, Adventure Tome, Potions, Achievements, and Rapport Dialogue.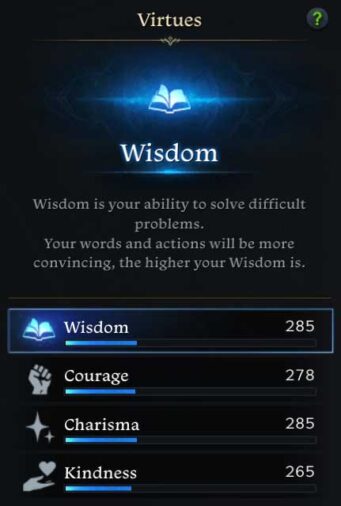 ---
Quests
Random quests here and there reward you small amounts of Virtue Stats. Usually, I end up doing every single quest on each region and Island to make sure I didn't miss any Virtue Stats. For Islands that with quests that give Virtue Stats, please visit the Island Tool and filter by rewards and then Virtue Stats.
Note: Please visit Lost Ark Codex which lists all quests that reward you those stats. You can filter the quests by typing in the zone name.
---
Costumes and Skins
Certain skins either give you a bit of every Virtue Stat or go all in onto one. For example, the Platinum Complimentary Skin Set goes all into one stat giving you a total of 70 extra

Charisma. It's much better to go for these kinds of sets when more come out in the future. Usually, you're lacking in only one or two stats when having to get past a Virtue Stat check for Rapport.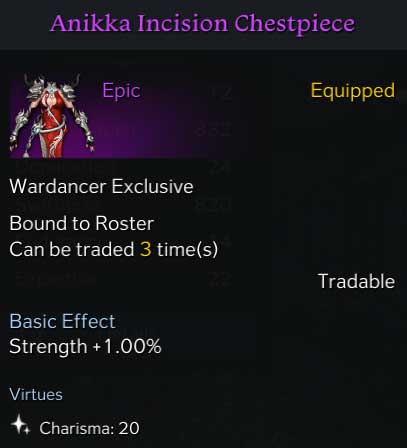 ---
Adventure Tome
Your Field Boss, Another Story, and Hidden Story completions in your Adventure Tome provide additional amounts of Virtue Stats. Complete them for a nice boost.
---
Rapport Dialogue
Upon advancing certain NPCs to certain stages, you will be met with an option for dialogue. Sometimes these dialogues give Rapport EXP, but other times they reward you with Virtue Stats.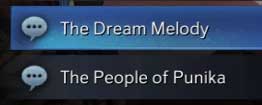 ---
Achievements
Certain achievements also provide an easy way for you to gain Virtue Stats. Check out all Achievements that reward you Virtue Stats below.
---
Virtue Potions
In the game Wisdom Potion, Courage Potion, Charisma Potion, Kindness Potion provide +10 to your Virtue Stats. Your ingame Item Codex (Alt+D) will tell you where each potion comes from in addition to whether or not you have acquired them already. To supplement your codex, here are the various methods in acquiring these potions listed.
---
Summary
Virtues are used to pass Virtue Checks with NPCs, Mokoko Seeds, and progressing certain quests.
Virtues can be increased through Quests, Skins, Adventure Tome, Achievements, Potions, and Rapport Dialogue.
---
Credits
Written by Yaen
Reviewd by Starlast
---
---