From simply cheering on soldiers to deep dives into Dungeons, Side Quests in Diablo 4 come in all shapes and forms. They tell small stories of NPC's in Sanctuary and are an integral part of your character power progression due to their rewards: 20 Renown, Experience, Gold and the occasional cache with various contents like crafting materials or Elixirs.
Basic Information on Side Quests
Let's look at some information that we have gathered. Available quests are marked on the map with a big blue exclamation mark: !
In addition, after you begin a quest, a secondary objective is marked in various ways, either with a blue circle on the map to indicate the general area you need to go or with blue diamond icons to indicate a specific object, target, or place to track.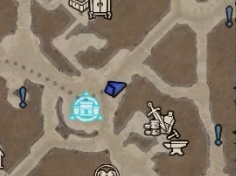 Durations
By themselves, the time investment for Side Quests ranges from 20 seconds to 10 minutes. Quest chains can take upwards of 15 minutes to fully complete. To top off your Renown in a zone, this is time well spent!
Rewards
Besides the important 30 Renown points, you receive Gold, Experience, and sometimes a cache of goodies or special item for your troubles.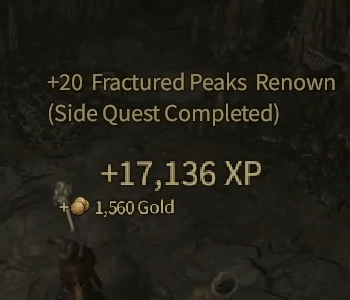 Types
Diablo 4 has standalone Side Quests, Quest chains, and Priority Quests which don't count towards your Renown. The achievements reveal Quest chains scattered through the 5 zones of Sanctuary:
Unlocks
Some of them can only be seen once a certain condition is met:
Some Quests are locked behind your character level. Check your surroundings every 5 levels to find them all!
The second Quest in a chain only appears once the first is complete.
Side Quest Overview
Summary
Side Quests are a great way to complete your Renown. If this is your goal, focus on the short ones.
They tell short stories about the world of Sanctuary and its inhabitants.
The duration of Quests can vary between 20 seconds and 5 minutes each. Quest chains take around 15 minutes.
Experience and Gold are guaranteed rewards. In most cases, you also get an item or a cache of goodies.
Credits
Written by Teo1904
Reviewed by DarkHumility