The Renown system is a critical part of progression for all Characters in Diablo 4. It serves as your reputation within the different Sanctuary Zones and is split into 5 stages. It grants Gold, additional Skill Points, Potion Charges, Murmuning Obol capacity increases, and Paragon Points.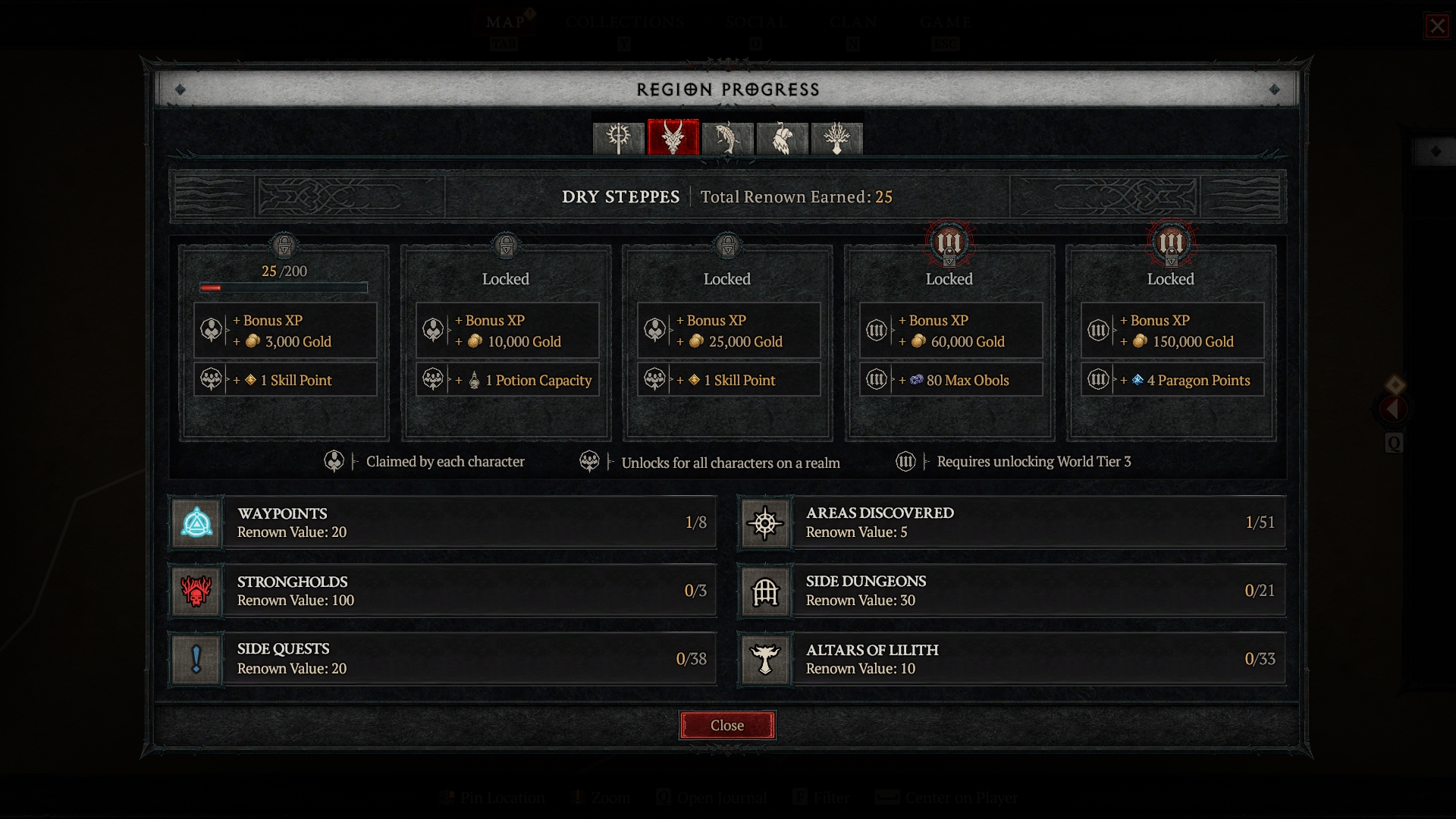 Renown System Rewards
Each main Zone has its own Renown counter. At certain thresholds, the points you collected unlock rewards. The stages are split up into 5 stages, which internally are split into account wide, and individual character rewards. To unlock the final 2 stages, you need to unlock the 3rd World Tier. With all Renown boards completed, all characters on your account receive 10 Skill Points, 5 Potion Charges, 400 Obol capacity, and 20 extra Paragon Points.
Renown Reward Stages
Each stage requires a certain amount of Renown points to be unlocked. Each character starts at 0 points in all zones. These stages can easily be reached without completing every single objective in a zone.
| | | | | |
| --- | --- | --- | --- | --- |
| Stage 1 | Stage 2 | Stage 3 | Stage 4 | Stage 5 |
| 200 points | 300 points | 400 points | 500 points | 600 points |
| 200 total | 500 total | 900 total | 1400 total | 2000 total |
Collecting Renown Points
Each zone has more than enough objectives to complete all 5 stages of its board without completing every single one.

Available Renown per Zone
Tips & Tricks
Focus on completing stages 1-4 early, as they are fast and grant a lot of extra power.
Find the route that combines as many objectives as possible:
Events and Cellars don't contribute to Renown, so you can skip them.
Summary
Collect points in each zone to complete the 5 reward stages by collecting Waypoints, discovering new sub-zones, finding Altars of Lilith, or completing Strongholds, Side Quests, and Dungeons.
The system gives a global Skill Point and Paragon Point bonus to all characters on your account.
Each Character starts with 0 points in all zones. Complete their progress to gain large boosts in experience and Gold.
Skip cellars and Events if you're trying to complete the stages as quickly as possible.
Credits
Written by Teo1904
Reviewed by Raxxanterax & wudijo