---
The Travincal is an extremely rewarding farm for Runes, Unique and Set Items and large amounts of Gold in Diablo 2 Resurrected. Nothing satisfies the need for blood quite like killing Mephisto's friends. One has to be careful though, as the Council Members do not give up their treasure easily. They are extremely powerful, have various immunities, spawn in large numbers, can heal themselves, and cast deadly Fire Hydras. Did we mention there are lots of pesky monsters nearby, like the Hierophants that can also heal? What could possibly go wrong?! Don't worry, we'll power up, plan carefully, and dispose of these vermin without a scratch. Well... maybe a scratch, but we'll win for sure.

Magic Find and higher Player Counts both boost your earnings in the Travincal, but don't give up power, resistances or clear speed to gain them. We need to be as strong as possible to farm this area efficiently.
---
Why farm the Travincal?
The Travincal is an Area Level (alvl) 82 zone. The Super Uniques and other Council Members here can drop a plethora of valuable loot and High Runes (up to Cham Rune). These monsters spawn together in a temple outside the Durance of Hate, so they can be killed quickly if you have a powerful character. It also has a static map with dedicated Waypoint, making it an ideal farm for characters with poor mobility. Easy mode!

Here are some valuable items you can find on Hell Difficulty.
Hell
Caster Builds
Eschuta's Temper
The Oculus
Skin of the Vipermagi
Tal Rasha's Adjudication
Attack Builds
Andariel's Visage
Dracul's Grasp
Guillaume's Face
Highlord's Wrath
Verdungo's Hearty Cord
Other
Harlequin Crest
Herald of Zakarum
Mara's Kaleidoscope
The Stone of Jordan
Stormshield
War Traveler
Any Rainbow Facet
---
How do I find the Travincal?
The Travincal is located at the end of Act 3, just before descending into the Durance of Hate to fight Mephisto. It has its own Waypoint on the West side that is used to farm this area quickly.
The Council Members always spawn somewhere around the temple marked in green, but their exact locations can differ. This variance can swing the fight heavily in your favor, or make things much more challenging. We need a proper plan for all scenarios to be successful farming the Travincal.

---
Preparing for Battle
One does not simply waltz into the Travincal and kill the Council. Nearly every danger you can think of awaits you: massive damage, swarming enemies, immunities, healing, etc. Let's cover some key points about the Council that help us succeed.
Immunities
Breaking the Council's Immunities is desired. Many of them are naturally Fire and Lightning Immune, but Toorc Icefist will always greet you with Cold Immunity. If it's available to you, the Fire, Lightning and Cold Immunities can be broken by infinity's conviction Aura. If you don't have this yet, it should be on your wishlist.
The Super Uniques
Knowing our enemies helps us be successful with this farm. The Travincal always spawns 3 Super Unique Council Members, each with 3 minions who can heal each other. They also have static Elite Affixes that we can plan for:
Geleb Flamefinger
Always spawns with Extra Strong, Fire Enchanted and both Fire/Lightning Immune. Not only does he naturally have dual resistances, but he hits the hardest and explodes on death. Keep him at a distance whenever possible.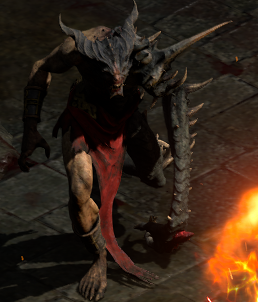 Ismail Vilehand
Always spawns with Cursed, Extra Fast and Fire Immune. This guy is like Speedy Gonzalez, so outrunning him is quite difficult and not recommended unless the situation is dire.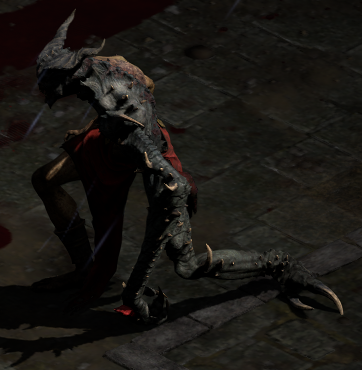 Toorc Icefist
Always spawns with Cold Enchanted, both Cold/Fire Immune and Stoneskin. Are you a Blizzard Sorceress relying on your mercenary to finish off this last guy? Toorc laughs at that thought and raises you a Stoneskin. 150 swings later, you might have him dead... maybe. Jokes aside, you should cast Static Field to get him to half health before spamming Telekinesis to put him into hit recovery for your merc. If your merc still can't kill him, skip him.
---
Fire Hydras
Do you know what your Mercenary has nightmares about? John Wick was a good guess, but no, it's the Council's Fire Hydras. Nothing in Diablo 2 Resurrected barbecues him faster and consistently costs you 50k like this attack. You absolutely must maximize his Fire Resistance and position him away from the hydras. If you try and try but can't keep him alive, you'll have to fight the Council alone... or go broke resurrecting him.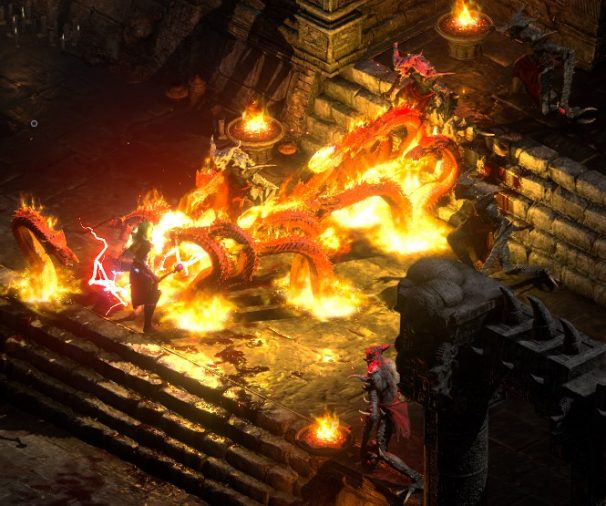 ---
Tips & Tricks
Maximize Magic Find
We're here to find juicy Unique and Set Items. Optimizing the "Better Chance of Getting Magic Items" Stat increases your chance of finding them. Stack it whenever possible without losing significant damage or resistances.
Increase Player Count
A high player count increases the amount of items dropping at 3/5/7 players which increases your chance for dropping good Base Items, Runes, Flawless Gems, Charms, and Jewels. Play at the highest count you feel comfortable on!
Kite The Council
While the Fire Hydras are powerful, they are also stationary. By moving around the temple you can mitigate a lot of the incoming damage to you and your Mercenary. Just make sure you don't wander too far away and aggro more of the surrounding monsters. You can also kite them into the temple's door to bottleneck them into your attacks. Some attacks even go through the walls, potentially earning you free kills.
Bring Fire Resistance
If you can't kite away from the Hydras, with enough Fire Resistance you can just tank them. Use Charms to boost your defenses before attempting this farm.
Don't Kill Them All
Well, at least if you don't want to. If one spawns with a particular Elite Affix or Immunity that is significantly increasing your clear time, just kill the others and move on. Overall this nets you much more rewards.
---
Build Recommendations
A decently powered character is required to farm the Travincal efficiently. Let's look at the best option(s) for each class:
---
Summary
The Travincal is an amazing, but challenging farm for Runes, Uniques, Set Items and Gold.
Dealing with the Fire and Lightning Immunities is the key to success.
Keep your Mercenary (and yourself) away from the Fire Hydras by kiting the Council around the temple.
Shoot through the walls for free kills whenever possible!
Stock up on Magic Find and turn up the player count to increase your rewards even further!
---
Credits
Updated and Maintained by Teo1904
Originally written by Raxxanterax
Reviewed by Teo1904
---
---