It's almost time to go back and play Diablo 2 Season 5! While this Ladder may not have any major changes, we are still here to provide you the critical information to have a fun and effective ladder start! See all our great Leveling Guides, End Game Build Guides and Tier Lists below to aid in your fight against the demons of Hell!
Ladder Start Times
Season 5 starts on the following date/times:
Date: Thursday, September 28
Time: NA (2:00 p.m. PDT) - EU (11:00 p.m. CEST) - Asia (6:00 a.m. KST)
Leveling Guides
The first Character of a Ladder Season is always exciting. It needs to farm for itself and future builds that you may want to play later on. Check out our Ladder Start Tier List! It helps you choose the right build for your Ladder start. Not every build is equipped to Level-Up efficiently, but our Leveling Guides have you covered! Here are Guides that will help you get your first Character going:
Top Class Builds for Season 5!
"Best builds" is a very subjective thing in Diablo 2. Some builds perform in many areas, making them well-rounded, while others are defined by their specialization. These are the best 2 builds per class for Season 5: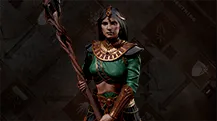 Tier Lists
Want to know what is a good leveling build? What will help you tackle those Ubers with ease? See all our dedicated Tier Lists below to help you find which build is best for any activity you want to do.
Good Luck from the Maxroll Team!
We are wishing you the very best on your adventures in Ladder Season 5! Enjoy your fight against evil in Sanctuary, and we will see you in game! If you haven't already, head over to our Discord and select the D2 role in #roles to stay up to date with our content development.