---
Introduction
Cards are not just there to be collected and forgot about, they offer ways to boost your characters defensive and offensive powers. These bonuses aren't substantial but they become very important to acquire in the endgame of PvE and GvG.
---
Where to Obtain Cards
Cards can be obtained from various weekly and daily activities such as:
Achievements
Cooperative Sea Missions
Marie's Shop (F4)
Rapport Rewards
Traveling Merchants
Story Quests
Additionally card packs can be purchased from Islands: Peyto & Fermata.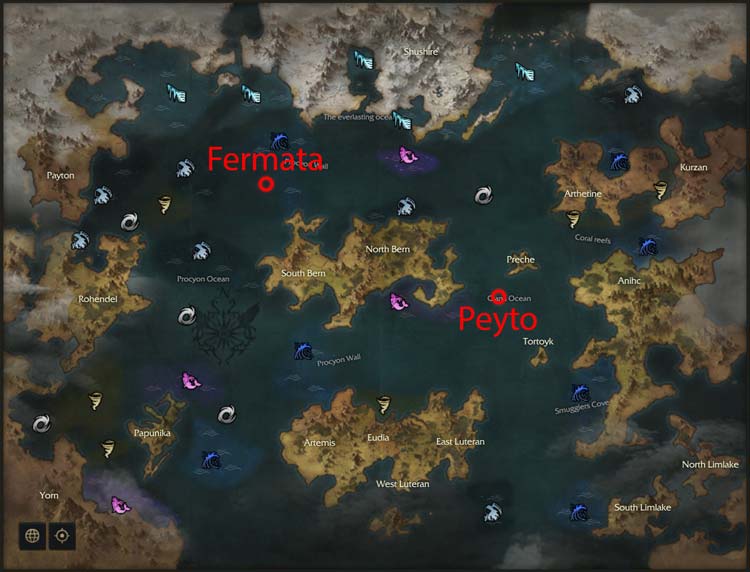 These contain merchants that sell 7 Peyto and Fermata Card Packs for 2,000 Pirate Coins weekly. Card packs sold here are per character. Pursuing Cooperative Sea Missions daily nets you enough Pirate Coins to purchase these on multiple characters and accrue a healthy Card Collection over someone who does not.
Note that each islands ship sells their own version of the card pack separately.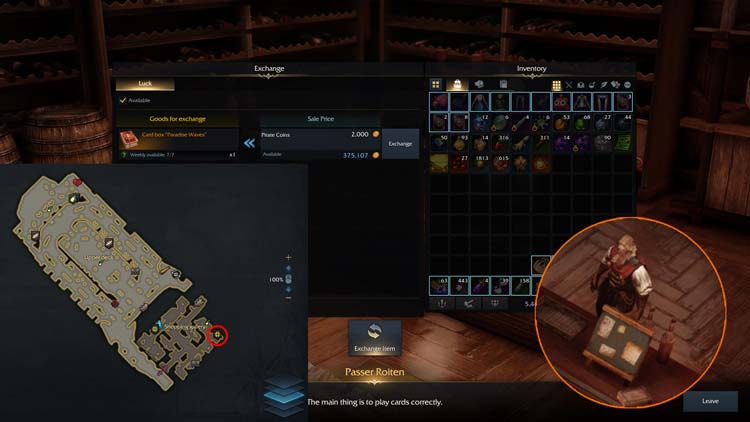 Card System Overview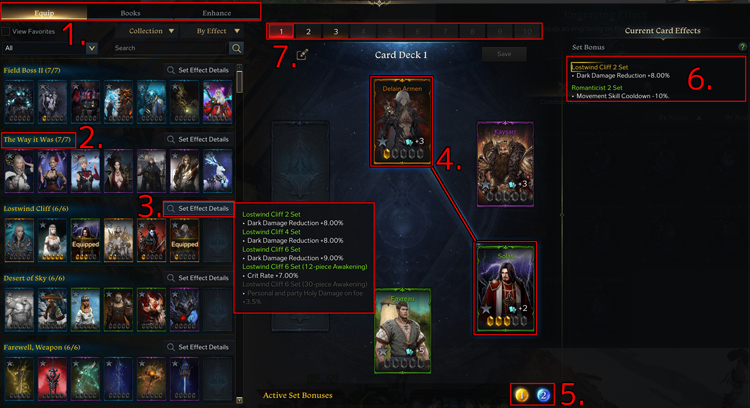 1. Category Selection
Upon opening your Card Deck (Alt+C) you can see your acquired Card Sets as well as the Setup Area. Additionally you may swap between Books or Enhance in the top left corner.
2. Card Sets
All available Major Card Sets are listed on the left side, including the name and amount of cards present within each set. Card sets can consist of either 2, 3, 4, 6 or 7 cards.
3. Detailed Information
Hovering over the magnifying glass shows you the bonuses available for equipping the required amount of cards into your Deck.
4. Setup Area
This is where the magic happens! You can place up to 6 Cards in the open slots. Activate as many useful effects as possible using the cards available to you. Depending on the set, their effects are activated at either 2, 3, 4 or 6 cards. Note that multiple Card Sets can be activated at the same time as long as you equip the right amount of cards!
5. Set Highlight
These buttons highlight cards that belong to the same set, letting you easily distinguish between them if you're using bonuses from multiple Card Sets.
6. Activated Effects
This window shows all currently activated bonuses and effects applied to your character from your equipped deck.
7. Presets
Not all activities require the same Card Sets. You're given 2 preset slots to quickly change between your favorite Deck Setups. Additional slots can be bought using Cash Shop Currency.
---
Books Collection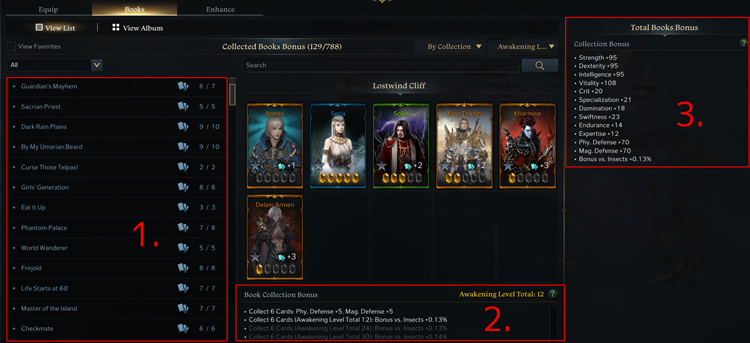 1. Book Card Sets
These Card Sets are similar to the ones found under the Main Deck Tab. Unlike them, their effect is only activated upon obtaining the full set. Represented within these sets are all the cards in the game. Note that most of these cards cannot be equipped for your Main Deck, but instead provide minor benefits when completed.
2. Book Collection Bonus
Bonuses you can obtain by completing these sets include:
Strength/Dexterity/Intelligence
Crit/Specialization/Swiftness/Domination/Endurance/Expertise
Vitality
Physical & Magical Defense
By Awakening enough cards within the set and reaching a certain set level (amount of Awakened cards). You gain additional effects that boost your damage versus certain boss types like Demons, Beasts, Plants and so on. While these effects look extremely minor at a glance, all bonuses combined provide a meaningful benefit in the late game.
3. Active Effects
These are the unlocked effects between all completed Book Card Sets you own. Focus on completing sets which grant Crit, Specialization or Swiftness as they greatly benefit you in PvE.
---
Enhance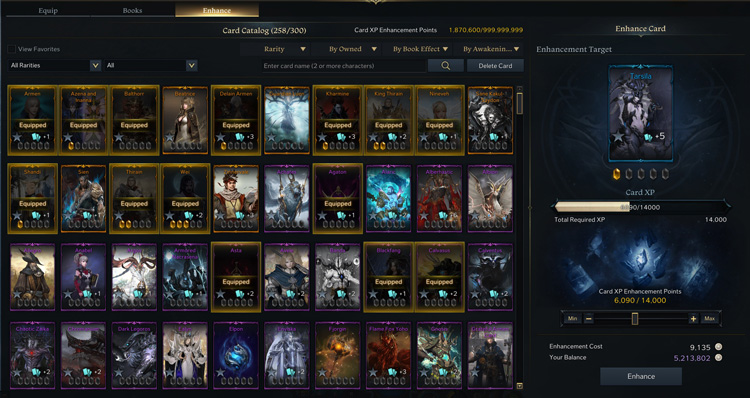 Cards found ingame have to be consumed for them to count towards your collection. To do so, simply right click them from your inventory, and they are sent to your Enhance tab automatically. This is where all your activated cards get stored.
Every unique card is taking up a singular slot within the Enhance tab, while each duplicate gets added on top of it without taking up extra space. You can have up to 15 duplicates of any card. At which point any consecutive copy gets turned into Card XP Enchantment Points when consumed.
Additional card space can be bought by using the Cash Shop Currency if you run out of it. The Enhance tab is also where Card Awakening takes place.
---
Card Awakening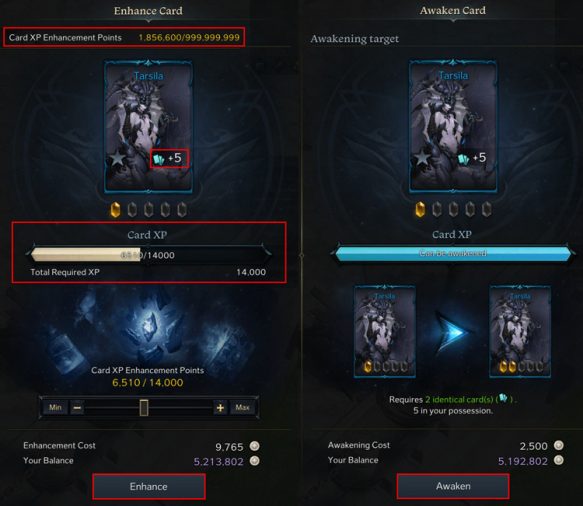 Awakening a card requires three things: Silver, extra duplicates of the card you're upgrading, and Enhancement Points to fill its Experience Gauge. Once obtained simply:
Right-click the card you wish to Awaken from your Workshop.
Fill its Experience Gauge and press Enhance.
Press Awaken and you're done!
Your card has reached level 1 Awakening! Further stages require more card duplicates, Enhancement Points and Silver. To reach maximum Awakening (level 5) a total of 15 extra copies are required.
Some of the Strongest Card Set Effects are locked behind big Awakening level requirements and are worth pursuing.
Enhancement Points
Various activities reward you with Soul Leafs, Eternity Essences, Creation Fragments and Manelik's Tomes. All of these grant Enhancement Points for Awakening your cards. Notable sources for these include:
---
Strongest Card Sets
Depending on if you're going into a Guardian Raid, participating in Guild vs Guild or simply enjoying some Trade Skilling. The correct Card Sets can play a big role in performing better in these activities. We outline some of the best Card Sets in the "Best In Slot Card Sets For Endgame" article. Check it out for more information!
---
Video Guide
---
Summary
Collecting Cards is a long-term goal and doesn't come by easily.
Cards can be unlocked and added to your Enchance Tab by right-clicking them in your inventory.
Create a Deck from the list of Major Sets to benefit your character in various ways.
Major Card sets provide meaningful offensive and defensive bonuses if Awakened to their respective stage.
Book Card sets provide passive bonuses upon completing a full Book Set.
Awakening a card requires three things: Silver, extra duplicates of the card you're upgrading and Enhancement Points to fill its Experience Gauge.
You can have up to 15 duplicates of any card.
Good luck collecting!
Credits
Written by Choilicious
Reviewed by Facefoot
---
---