---
Introduction
There are many unique NPC's in Lost Ark with whom you can interact daily to learn about their story with the help of Rapport Quests. You can gift items, play songs or perform actions to advance their affection levels, receiving valuable items in the process. These can help your character growth or further your Collectibles. Let's learn about it!
---
Rapport Overview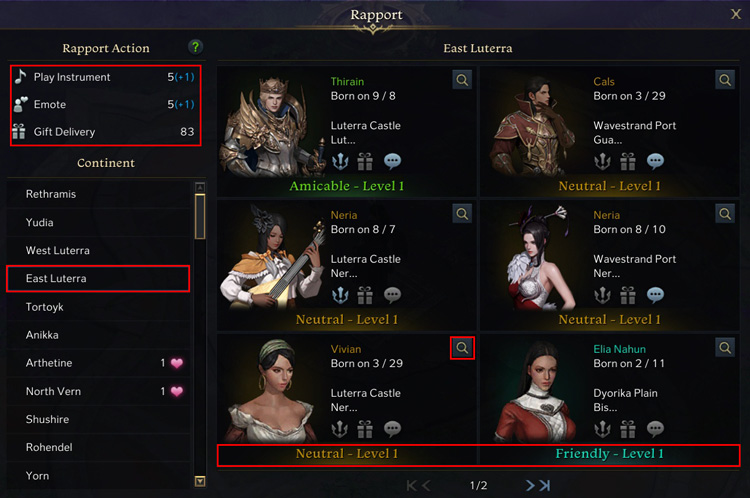 You can access the Rapport Window by pressing Alt+N or going through the Adventure Tab in the game menu. Here you can check the Continent, Location, Attained Rank and Rewards of each Rapport NPC in the game. It also lets you keep track of your available actions and gifts that you can expend daily, which include:
5 Songs
5 Emotes
99 Rapport Gifts
Note: The Crystalline Aura subscription grants an additional action per day.
Rapport Stages
NPC's can have up to 5 different stages. Each stage consists of multiple sublevels. Upon completing these, they will initiate a

Rapport Quest or give text options to find out more about the character's backstory. Completing a stage unlocks the rewards for the next one. Note that currently only Sasha and Ealyn can reach the Affection stage.
Normal (2 levels)
Amicable (3 levels)
Friendly (3 levels)
Trusted (3 levels)
Affection (1 level)
At Higher stages, NPC's can have increased Virtue stat requirements, making you unable to proceed with them until those stats are met. These stats can be seen in your Character Profile (P) under Skins & Virtues. Increase them by completing: Sidequests, Una's Task reputations, Collectibles and Rapport NPC stages to obtain items like: Wisdom, Courage, Charisma and Kindness Potions.
Rapport Gifts
Rapport Gifts can be obtained through various ingame means and provide an extra boost in points towards your favorite NPC's when gifted to them. Maximum 30 of the same gift can be given to an NPC in a single day. Sources for rapport gifts are:
Providence Stones traded with Exchange Rapport NPC's in all major cities.
Legendary and Artifact rarity rapport gifts from Adventurer's Tome completion.
Mari's Secret Shop (F4)
Island Quest rewards
Login Rewards
Rapport Storage
All rapport gifts in the game get stored in their own storage tab. Click the "Storage" tab at the top of your inventory and select Rapport to access it. Note that items like Epic Rapport Chests and Legendary Rapport Chests are not stored in this tab until an item is withdrawn from them.
Rapport Gift Points
Epic - 300 to 450 experience (NPC dependent)
Legendary - 2,000 experience
Artifact - 10,000 experience
The only exceptions are Encavian Crown which rewards 5,000 XP to female NPC's and Crystal Necklace rewarding 5,000 XP to male NPC's.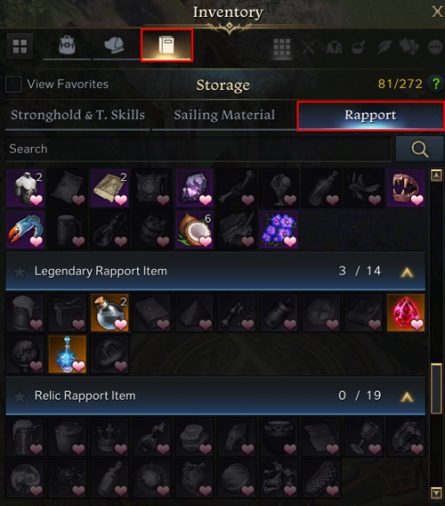 Rapport NPC Focus
Choose a category for Gold, Skill Point Potions, Virtue stats or Adventurer's Tome completion items. These are good NPC's to focus on early on, but keep in mind that many other NPC's have items worth pursuing at a later time.
Select here!
2. Giant's Heart Rewards (Skill Potions)
3. Virtue Stat Potion Rewards
4. Adventurer's Tome Rewards
These are NPC's where reaching the initial reward stages is not a large time investment and are worth pursuing if easy and fast Gold is what you seek. Keep in mind that more Gold can be obtained through NPC Rapport, but most of it requires a long time investment.
Check our Rapport Tool for more information about the specific NPC's.
Tier 3
Punika
Nia ➜ Amicable ➜ 1,400 Gold

Hariya ➜ Friendly ➜ 1,100 Gold

Sapiano the Fox ➜ Friendly ➜ 1000 Gold

Albion ➜ Friendly ➜ 800 Gold

Berver ➜ Friendly ➜ 800 Gold

Yom the Squirrel ➜ Friendly ➜ 800 Gold
---
Summary
Gift items, play songs and perform actions to raise Rapport Stages with NPC's daily.
Choose Rapport NPC's depending on what you want to pursue in the game.
Obtain Virtue Points from Sidequest, Una's Task reputation, Collectible and Rapport NPC completions.
You can invite and place Trusted Stage NPC's in your Stronghold.
Credits
Written by Choilicious
---
---