---
Introduction
If you don't have the time to go through the

Main Story again on another character, you can use gold to boost a character in your Stronghold. The Knowledge Transfer feature is an excellent way to create fresh ilv 302 characters for your account. The process is quite simple and highly efficient for new characters.
---
How to Unlock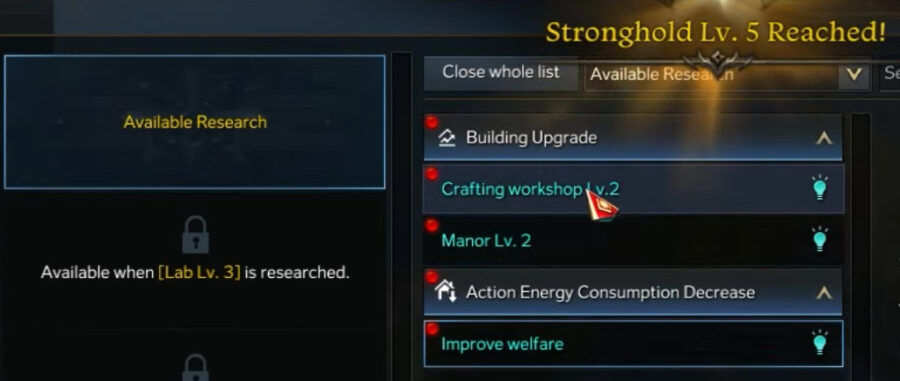 Complete North Vern quest Ealyn's Gift.
Stronghold level 5 by completing the tutorial quests on the island.
Complete Stronghold quest Nothing is Impossible for Cykins! from Adeline.
Check out the StrongHold Guide for additional information!
---
How to Use
To boost a fresh character to ilv 302, you will need to level a character to lv 10 and use the sheet music Song of Hearth and Home from Siera in Prideholme. After playing the song...
Interact with the Knowledge Transfer Machine with your fresh character.
Pay 600 Gold.
Wait 8 hours.
Subsequent story boosts past North Vern will require Main Story completion of said continent and Gold.
ie: If you finish Feiton Main Story on one character you can now boost one other character through the Feiton Main Story, granted they meet ilv requirement.
Note: Powerpasses also count as Main Story Completion, but are only available through events currently.
Check out the Alts Guide for additional information!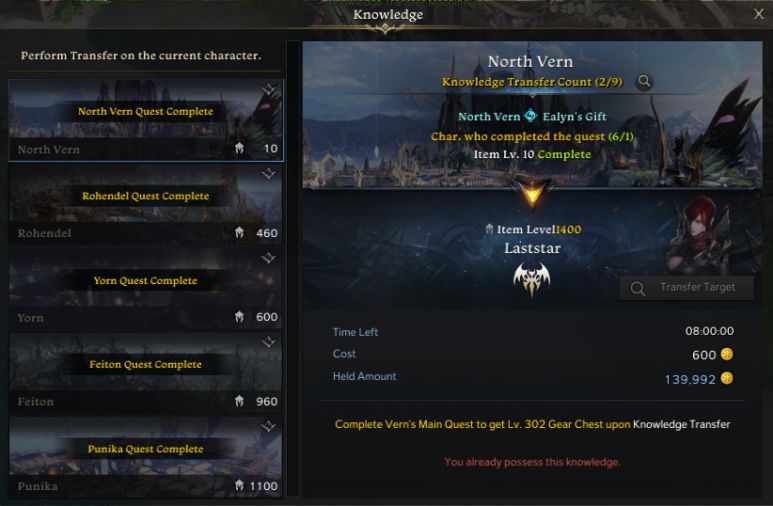 | Continent | ilv Requirement | Gold | Hours |
| --- | --- | --- | --- |
| North Vern | 10 | 600 | 8 |
| Rohendel | 460 | 1000 | 8 |
| Yorn | 600 | 1400 | 8 |
| Feiton | 960 | 1600 | 8 |
| Punika | 1100 | 2400 | 8 |
Note: The number of transfers per continent is 9 times max. Each boost will require 8 hours before completion, making it more efficient to just do North Vern (since the storyline of North Vern will require more than 8 hours). Transferring for Rohendel+ is only worth it if you don't feel like completing the story again and have gold to spare. You cannot knowledge transfer two characters at the same time for the same continent as well (ie: 8 hrs for 2 North Vern characters). Only the North Vern transfer grants ilv 302 gear.
---
Summary
Knowledge Transferring a fresh character with gold is always worth it!
North Vern transfer is the best value you can get.
Completing a Main Story Questline of a continent will grant you 1 skip for another character for that particular continent (this is important for transferring characters for Rohendel+).
Credits
Written by Starlast
---
---