---
In Multiplayer RPGs, trading is a core activity to get the items you want for your characters. Many items in the game are tradable and therefore have a value attached to them. The trade value of an item highly depends on the demand for it, making chase items in the early stages of a Season or the game launch worth quite a fortune. While farming for items, it is great to know what you are looking for, and what items are potentially worth selling.
All information in this article is from the Press Preview Access of Diablo 4. The content presented here is subject to change, and will be updated as we learn more.
---
Which Items can be traded?
Either an item is tradable or it is not, in which case an item is marked Account Bound in the tooltip. Currently there is no restricted or limited trading. Here is an overview:
Tradable
Common Items
Magic Items
Rare Items
Gold
Gems
Elixirs
Untradable
Legendary Items & Aspects
Unique Items
Enchanted Items
All other currencies but Gold
---
How To Trade
Invite your trade partner to your party so you can get into the same World State of Sanctuary.
Hit the action wheel once you are close to your trade partner to open the trade window by clicking "Invite to Trade".
Your trade partner receives a request for trading. When they accept the request, a trade window opens.
To proceed with the trade, both parties put their negotiated items into the trade window.

The items need to be in your Inventory to be placed in the trade window. You cannot access your Stash, or the items you are wearing.

After all agreed items are placed into the trade window, both parties click the "lock in offer" button.
Once both locked in their offers, proceed to click "accept trade" to complete the trade.

If a player changes anything in the trade window, the "accept trade" status of the other person gets removed.

Most likely trading will happen in the starting town Kyovashad.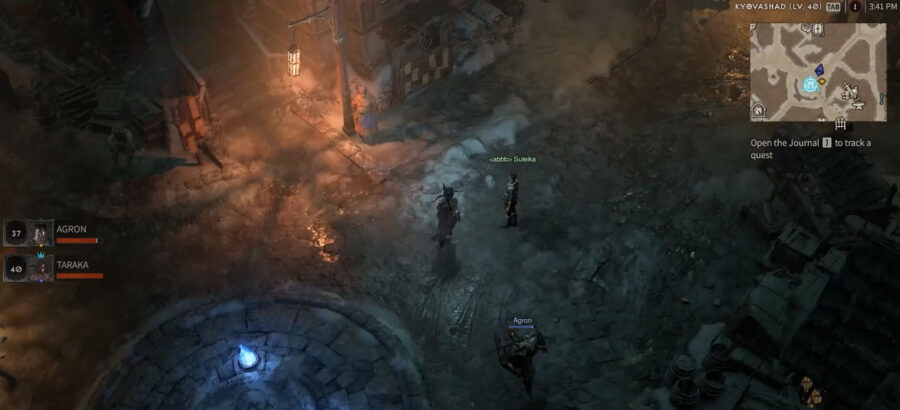 ---
How To Find Trade Partners
There are multiple avenues to find a trade partner:
Ingame Trading Channel
Use the dedicated Channels for Trading in the Diablo 4 Battle.Net. You can either:

Write messages yourself about what you are selling or what you are looking for. You can offer your items there by hovering an item, hitting shift + left-click and then sending it with enter.
Or observe the channel, searching for people that are looking for items you have to trade.

When there is interest in a Trade, contact has to be made either:

By the person reading your offer message.
Or by you, approaching someone who put a message into the channel.

After negotiating (if necessary) you agree to meet up in a game and go through the necessary steps to trade.
Discord
Maxroll's Discord will prove text channels for Softcore and Hardcore Trading. You can create lists of items that you are offering, and what you are looking for. Stay tuned!
When you find a trade opportunity, contact the player through private messages on Discord or the listed battle tag in-game.
Traderie
---
Common Currencies
The common trading currencies certainly has to evolve over time, but at first glance the only real currency that can be traded and has some inherit value is Gold. Gold can also be used to respec your character, repair your gear, upgrade items at the Blacksmith and to create new items using the Occultist.
---
Trade Language
Players use abbreviations to increase the efficiency of looking for trades. The following abbreviations are commonly used:
ISO = In Search Of
LF = Looking For
O = Offer
N = Need
T4T = Thanks for Trade
OBO = Or Best Offer
NN = No Need
No TY = No, Thank You
Desc = Description
P = Perfect
SS = Stay Safe (Usually in Hardcore)
WUG = What do you have for trade?
WUN = What do you need?
GLHF = Good Luck, Have Fun!
BT = Battle Tag
---
How To Avoid Scams
Make sure to always double-check the items your Trade Partner has placed into the Trade Window, especially:

When the Trade Window was closed after you have initially checked the items and accepted the Trade.
When your Trade Partner removes and re-adds items to the Trade Window.

Don't Trade

In any shape or form in which your Trade Partner asks you to drop an item!

When you are asked to give your item without receiving the agreed Trade Items. E.g. Your Trade Partner tells you that one of the items is on a different Character.
---
Summary
You can trade Common, Magic and Rare Items, Gold, Gems as well as Elixirs.
Legendaries, Uniques and Enchanted Items are untradeable.
Do not get scammed always pay attention to what you are trading!
---
Credits
Written by Rob
Credits to Teo1904
Reviewed by wudijo
---
Changelog
Dec 7th 2022
Article Created from the Press Release Version of Diablo 4.
---
---
---