---
Introduction
The Atlas Passive Tree is a passive skill tree which applies specifically to the Atlas of Worlds. The idea was initially introduced with the Echoes of the Atlas 3.13 expansion with multiple skill trees, but was reworked into a single giant Atlas Passive Skill Tree with the Siege of the Atlas 3.17 expansion. The Sentinel League 3.18 patch added 20 Keystones to this Atlas Passive Tree for even more player engagement!
---
Atlas Passive Points
Most Atlas Passive Points are earned through Map Completion Bonuses from the Atlas of Worlds. White Maps require you to clear the Map as Magic, Yellow Maps require a Rare Map, and Red Maps require a Corrupted Rare Map. It is currently possible to obtain up to 132 points:
115 from completing the Atlas of Worlds maps completion bonus.
6 Atlas Books of Skill received from Kirac upon defeating Pinnacle Bosses and their Sub-Bosses for the first time: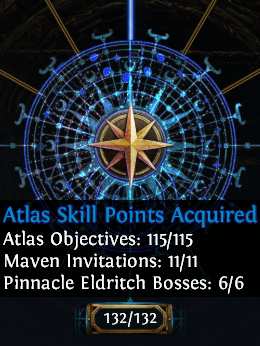 The Infinite Hunger
The Black Star
The Eater of Worlds
The Searing Exarch
The Maven
The Uber Elder
5 from The Maven's first four Quest variants and the final 10 boss (or "10-ways") variant of Maven's Invitation: The Atlas.
6 from Endgame Maven's Invitations:

Maven's Invitation: The Formed
Maven's Invitation: The Twisted
Maven's Invitation: The Elderslayers
Maven's Invitation: The Forgotten
Maven's Invitation: The Hidden
Maven's Invitation: The Feared
You can check missing Atlas Passive Points by typing the /atlaspassives command. Just like the Passive Skill Tree, it is possible to refund and reassign points as you wish using Refund Points. Those points are acquired by using Orb of Unmaking. These orbs can drop while playing but you can always go to Kirac in order to buy some from him at the cost of 2 Orb of Regret per Orb of Unmaking.
---
Atlas Passive Tree
---
Atlas Passives Overview
Here is a list of all Atlas Passives, Notables and Keystones split by mechanic:
Select Mechanic
The Elder, The Shaper & Guardians
There are many passive wheels related to Generic content such as Scarabs, Sextants or Maps:
Small Passives
Higher Map Tier Chance (x4)
Atlas Currency Chance (x4)
Atlas Scarab Chance (x4)
Map Boss Rarity (x3)
There are a lot of Generic pathing nodes:
Map Modifier Effect (x15)
Map Drop Duplication (x37)
Adjacent Map Drop Chance (x35)
Notables
Shaping the Skies
Shaping the Mountains
Subtle Manipulations
Enduring Influence
Enriched Entities
There are 2 pseudo-wheels allowing you to block specific League content and incidentally raise your chances to encounter the rest of the content:
Dimensional Barrier
Loved by the Sun
Trade Embargo
Black Thumb
Sealed Domain
Straight and Narrow
Ethics Review
Ominous Silence
Fungal Remission
Secular Focus
Keystones
Twist of Fate
Wellspring of Creation
Dance of Destruction
Valley of Darkness
Grand Design
Wandering Path
---
Atlas Keystones
With the 3.18 Sentinel League, the Atlas Passive Tree got a big update adding 20 Keystones to it. They allow for even more content customization for Path of Exile players. Moreover, there are Keystones unlocking Uber Pinnacle Bosses, which are level 85 versions of Path of Exile Endgame Bosses. These Bosses have special loot, additional abilities compared to their normal counterpart and are considered to be some of the hardest content in the game.
Grand Design
Wandering Path
Singular Focus
Shadow Shaping
Twist of Fate
Stream of Consciousness
Captivated Interest
Inevitable Ambush
Wellspring of Creation
Dance of Destruction
Valley of Darkness
Height of Hubris
Wrath of the Cosmos
Eldritch Gaze
Cosmic Wounds
Throw the Gauntlet
Memento Mori
The Perfect Storm
Thirst for Knowledge
Insatiable Appetite
---
Atlas Passive Tree Strategies
The basic initial strategy when it comes to the Atlas Passive Tree is toto focus on higher tier Map drops and content that rewards you for little to no time investment. It is best to focus on Kirac passives for Map drops then Ambush, Harbinger and Essence since their wheels are near the starting point or along your way and these League mechanics are not time consuming.
Later on, you take the wheels for either The Eater of Worlds or The Searing Exarch to maximize Influenced Monsters density and altars in your Maps. Synthesis Notables, Remnants of the Past and Conquered Conquerors are a viable option to get more Conquerors & Guardians Maps as passive income while mapping but buffing other content can definitely be more profitable. For more advanced and detailed farming strategies, consult our Currency Farming Guides!
---
Summary
The Atlas Passive Tree allows Path of Exile players to completely customize their game experience to suit their needs and focus on the content they love! It also incentivizes players to complete the Atlas of Worlds and defeat endgame Bosses in order to fill it with as many points as possible.
---
Credits
Written by Chewingnom.
Reviewed by Facefoot.
---
Changelog
Jul 9th 2022
Article Created.
---
---
---