Introduction to Stash Tabs
Stash Tabs are a form of storage space accessible only from towns and the player's hideout. Stash tabs have considerably more storage than the player's inventory and also grant substantially more functionality, including the ability to list items for sale or sort items into specific stash tabs automatically. For more information about how to use Stash Tabs for selling items, use our Trading Guide for Beginners, written by Tripolarbear!
Players start the game with 4 Basic Stash Tabs, with additional Tabs being purchasable via the In-Game Store.
Specialised Stash Tabs
Cost: 30 Points or 150 Points for a Bundle of 6x
core/media-text
Cost: 40 Points Each, 15 Points to Upgrade or 200 Points for a Bundle of 6x
core/media-text
Cost: 150 Points
core/media-text
Cost: 40 Points
core/media-text
Cost: 40 Points
core/media-text
Cost: 150 Points
core/media-text
Cost: 40 Points
core/media-text
Cost: 40 Points
core/media-text
Cost: 75 Points
core/media-text
Cost: 40 Points
core/media-text
Cost: 40 Points
core/media-text
Cost: 75 Points
core/media-text
Cost: 140 Points
core/media-text
Cost: 40 Points
core/media-text
_______________________________________________________________________________________________________________
Stash Tab Affinities
Stash Tab Affinities are an option contained within a tab's menu that allows you to assign an affinity to the tab, allowing you to sort corresponding items into that tab automatically in the future.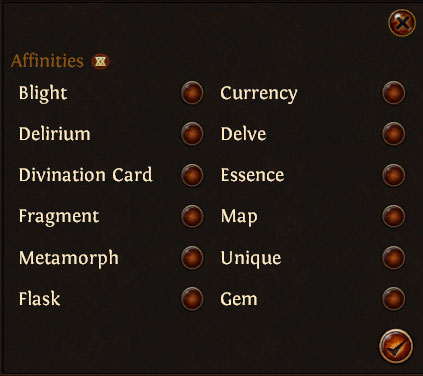 Once your affinity has been assigned, click the gear icon pictured below (located at the top right of your stash tabs) to open up a small menu for Affinity settings. These settings should be set as pictured below, with Affinities enabled and auto-navigation disabled.
This configuration will allow you to automatically send items in your Inventory to the tab corresponding to their Affinity type by simply control + left clicking them while your Stash is open.

Affinities are a crucial part of farming in Path of Exile as they drastically reduce the amount of time it takes to sort through the items you are farming. Where once upon a time each Inventory needed to be sorted manually, thanks to the existence of Affinities, an Inventory can be sorted as fast as you can click your items.
Exceptions
Unfortunately, not all items in Path of Exile correspond to an Affinity, these include:
Non-Unique Gear
Non-Unique Jewels, including Cluster Jewels
Heist Rogue Gear
Items related to the current League Mechanic
Compasses
Stacked Decks
Incubators
Scouting Reports
Heist Items
Although Heist Rogue Gear cannot be affected by Affinities, all other Heist related items can be. Contracts, Blueprints and Rogue Markers can be assigned the Heist Affinity by accessing the Heist Locker
core/media-text
core/media-text
Expedition Items
All Expedition related items can be affected by Affinities, however this Affinity type is similar to the Heist Affinity in that it cannot be accessed via Stash Tabs. Logbooks & Reroll Currencies can be stored in and accessed from the Expedition Locker.
core/media-text
Stash Tab Folders
Stash Tabs can be stored in groups called Stash Tab Folders. This functionality is very basic and does not allow much more than simple grouping, however it is still highly useful for players with an abundance of tabs and a need for additional organisation.

Unfortunately Stash Tab Folders cannot be recoloured. As a result, it can often get confusing when you are using multiple Stash Tab Folders together. It is ideal to space them out so that your Stash Tabs are visually readable at a glance.
A great way to use Stash Tab Folders are to store spare tabs that you do not currently have a function for. This allows you to access the tabs that you consider important without having to scroll between them. Once you own more than 30 Tabs, even the side bar will require you to scroll in order to navigate your tabs.

Stash Tab Priority Tier List
S Tier: 315 Points
Upgrading your First Premium Tab (For selling)
Currency Tab
Map Tab
Fragment Tab
The Tabs listed above are the best purchases for new players because they allow players to engage in the typical gameplay loop of mapping and selling far more effectively than the other options. Your first 315 Points spent should absolutely go towards buying these tabs!
A Tier: 240+ Points
Quad Tabs
Divination Tab
Essence Tab
These Tabs are just as crucial to the core gameplay loop of Path of Exile but are still important and highly recommended purchases due to offering great value for money. The Divination and Essence tabs will significantly improve the storage available in your regular tabs by removing common items such as Essences and Divination cards, whereas a Quad tab will enable more efficient dumping. Once acquiring all the S Tier Tabs, you should consider purchasing these next.
B Tier: 200+ Points
Delve Tab
Metamorph Tab
Delirium Tab
Blight Tab
Additional Premium Tabs
The B Tier Tabs are not necessary. However, for the items they specialise in, they offer improved storage capabilities compared to regular tabs which is important to consider since they cost the same amount as a Premium Tab. Most players will benefit more from owning the specialty B tier tabs over buying more Premium Tabs.
C Tier: 250+ Points
Basic Tabs
Gem Tab
Flask Tab
Unique Tab
These Tabs are low value and should be avoided unless you are a completionist and just want to own them for the sake of owning them. The Unique Tab is severely overpriced for how little storage it offers, it is even officially considered a collection tool rather than a means of storing items. The Gem and Flask tabs are unnecessary and these purchases are hard to justify considering most players do not usually need an entire Premium Tab to store these items.
Summary
Stash Tabs are a form of storage that is used to efficiently sort your items
Stash Tabs are also used to trade with other players
Additional Stash Tabs can be purchased via Microtransactions from the In-Game Store
Stash Tab Affinities & Folders make sorting and storage significantly easier
Not all Stash Tabs are equal! Knowing which ones to buy first makes all the difference
If you have any questions, feel free to ask me directly at Twitch.tv/Fyregras
Credits
Written by Fyregrass.
Reviewed by TBD.
Changelog