EHG announced the long awaited Last Epoch 1.0 is launching February 21st 2024! We have a message from Last Epoch's game director Judd Cobler, a roadmap and more.
A Message from Judd
I'm thrilled to announce that Eleventh Hour Games is launching the long-awaited 1.0 version of Last Epoch on February 21st, 2024. After a journey that started with the dream of uniting genre enthusiasts to create the next great ARPG and forming an after-hours team through Reddit, to holding a successful Kickstarter 18 months later, and then building Last Epoch alongside our passionate community throughout Early Access… we're confident in saying that we've made something truly special.
Last Epoch's 1.0 launch will mark a new beginning for Eterra, and will set a new bar for quality, polish, gameplay feel, and visual excellence. Beyond 1.0, Eleventh Hour Games will bring substantial new content to Last Epoch every few months in what we call "Cycles". These releases will contain additions and refinements to many aspects of the game, such as end-game content, skills, unique items, gameplay systems, quality-of-life features, etc.
We understand that February is later than we had initially targeted for this release; however, our original December timeline became a bit crowded with other studios' releases, and we didn't want to force the ARPG community to have to choose. By moving our date, we'll also be able to take advantage of a few more months of polish for our new systems and classes, complete more bug-fixing, and reinforce our team with a restful and well-deserved holiday break.
We thank you all for your unwavering support and enthusiasm that has allowed Eleventh Hour Games to make this game for all of us. We hope you will join us in Eterra this February and invite your friends to join in a new co-op hack-and-slash experience!
- Judd Cobler
Game Director, Last Epoch
Last Epoch 1.0 Launch Roadmap
In the time leading up to Last Epoch's 1.0 launch we're getting a wealth of new information. There's new trade news, reveals for the Warlock and Falconer masteries and much more.
Item Factions, Trade vs Prophecies on January 11th
Warlock Preview on January 25th
Falconer Preview on February 8th
Last Epoch 1.0 Launch day on February 21st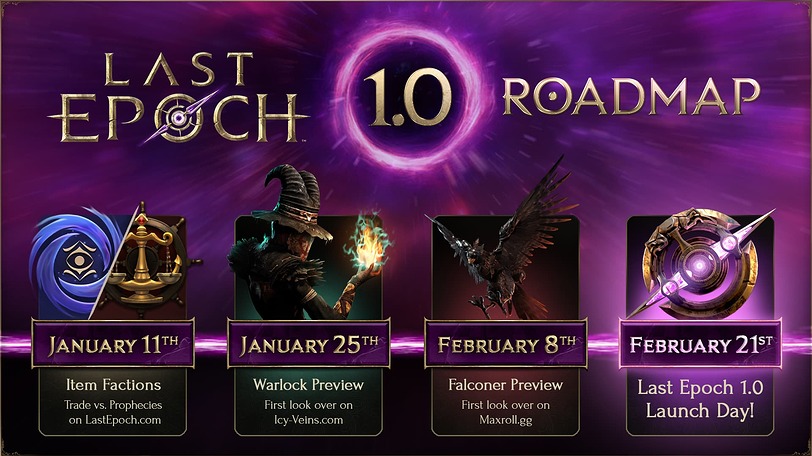 Keep Blasting to 1.0!
With the latest patch, Last Epoch is truly shaping up to be everything we want and more! We hope you enjoy the build guides, along with the many other resources as well. As 1.0 approaches we'll be hard at work updating our guides, releasing the hottest new builds and preparing for cycles.
If you haven't already, head over to our Discord and select the Last Epoch role in #roles to stay up to date with our content development.