---
Introduction
There are a total of 23 legendary gems with different strengths and weaknesses in Diablo III. 21 of these can be found as a reward for killing the Rift Guardian in Greater Rifts. The effects of each Legendary Gem vary from increasing your damage, to giving you massive shields, to tremendously boosting your character's survivability.
---
Overview
| | |
| --- | --- |
| GR tier compared to Gem's rank | Chance of upgrading |
| +10 or higher | 100% |
| +9 | 90% |
| +8 | 80% |
| +7 | 70% |
| +6 - +0 | 60% |
| -1 | 30% |
| -2 | 15% |
| -3 | 8% |
| -4 | 4% |
| -5 | 2% |
| -5 to -15 | 1% |
| -16 or lower | 0% |
When you complete a Greater Rift within the 15 minute time, you're rewarded with Legendary Gem upgrades by talking to Urshi (who spawns next to slain Rift Guardian) making them more powerful! The chance of successful upgrade is based on the Greater Rift tier related to the Gem's rank. You get 3 base upgrade attempts, one more if you don't die for the entire rift and another one if you pay Gold to empower the Greater Rift before entering it. These upgrade attempts can be used on any Gem that you have on your character or in your shared stash.

All legendary Gems have a primary and secondary effect that is unlocked at rank 25. If you do not have all Legendary Gems collected, the Rift Guardian is guaranteed to drop one you are missing. The first Legendary Gem you get this way is always Bane of the Powerful, and Legacy of Dreams has a significantly higher drop chance compared to others and is usually found soon after. Otherwise the order you'll find them in is random.

The last 2 legendary Gems are Boon of the Hoarder and Red Soul Shard. Boon of the Hoarder is found in Greed's Vault that you can access by consuming a Puzzle Ring in Kanai's Cube or spawning it from killing a Treasure Goblin in Adventure mode outside of Nephalem Rifts. Red Soul Shard can only be found in the January Anniversary Darkening of Tristram Event.

Followers generally do not benefit from Legendary Gems (except Esoteric Alteration & Mutilation Guard), but you can still upgrade them at Urshi when equipped on the Follower.
---
Caldesann's Despair (Augments)
With the help of the Kanai's Cube Caldesann's Despair recipe, a player can add extra Strength (Flawless Royal Ruby), Dexterity (Flawless Royal Emerald), Intelligence (Flawless Royal Topaz) or Vitality (Flawless Royal Amethyst) to Ancient and Primal Items by consuming Legendary Gems. This so called Augmenting of gear is a vital part of Diablo III's endgame.

You can augment each piece of gear. It gives you +5 main stat for each level of the Legendary Gem. Since there are 13 pieces of gear, and the highest level of a Legendary Gem is 150, it's possible to add 13*150*5 = 9,750 main stat! Full set of items can be augmented to increase your mainstat by as much as 9750, providing a significant DPS and toughness boost. The usual strategy with augmenting is to level your Gems to whatever GR tier you can speedrun in less than 3 minutes, then use them to augment your speedfarming gear. Later on you can level a new set of Gems and use a 4-Player group to push them higher than speedfarming tiers. These high-rank Gems will be used on your pushing gear.

To progress quickly in a season start it we recommend augmenting Ancient items early on as you gain a huge boost to your damage and survivability at low Paragon Levels. Level your first augments to a point where you still have close to a 100% success rate to not waste precious gem-ups. For example, if your group is running speed 110s, level your augments to around level 105.
In Season 25 Soul Shards can also be used to Augment items in place of Legendary Gems. Check out our full guide on Soul Shards to learn how to best manage them for Augment usage.
---
Legendary Gem Creation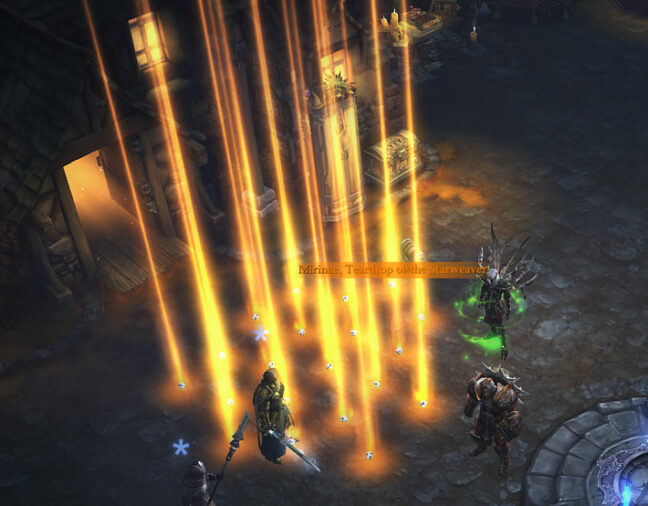 If you need extra Legendary Gems to level up, you can make the Rift Guardian in any Greater Rift drop a new Rank 0 Gem by removing all the Legendary Gems with the same name from your Equipment, Inventory and Stash. The safest way to do that is to put them into the Inventory of different character.

But if you are not afraid of disconnecting, you can just drop them on the ground or sell them to Vendors temporarily. Do not forget to pick them up again or buy them back when you feel like you have made enough or you will be very sorry!

---
All 23 Legendary Gems Explained
---
Video Guide
There are many insane Gems to choose from in Diablo but some of them are outdated and could use a mechanical change or a buff to make them useful again! Here you can find some suggestions by Wudijo. Enjoy!
---
Credits
Written by Rob with special help from Northwar.
---
Changelog
Mar 30th 2022
Updated for Season 26 / Patch 2.7.3
---
---
---