Introduction
How do you find people to consistently play with in Lost Ark? LF.Group is a brand new Lost Ark recruitment tool and website that makes it simple to create your community, search and join groups and statics, and recruit players for your guild. With LF.Group you can find great players that match your play time and class needs. It's built with your community first in mind and even has a Discord bot! Let's dive into all the details on this new tool.
Custom Profile
Create a custom profile for yourself and your guild! This gives players a one-stop-shop to see what you as a player or a guild is all about. Fill out your description, custom avatar, custom banner, as well as vital tags, timetable of events, and vacancies. In combination with our Lost Ark Builder, you can display all the information required of your entire roster!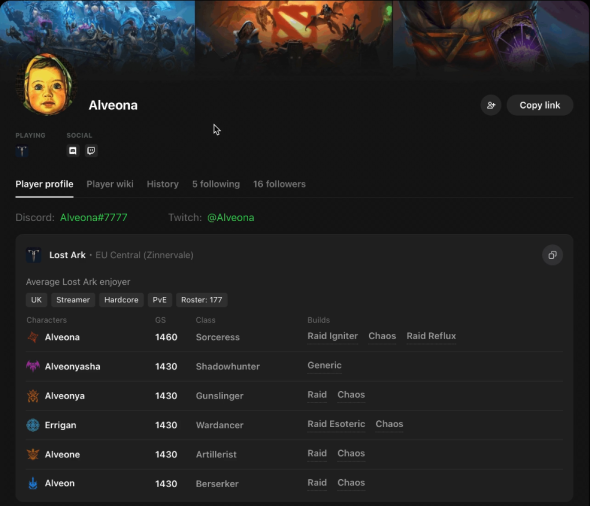 Recruit Members or Join Guilds
LF.Group makes it easy to apply to any guild or recruit players with vacancies. You can setup a vacancy and customize it to fit the needs of your guild. Choose the activities you are planning to play, any roles and classes you need, and describe who you are looking for in detail.

On top of that, the Discord bot informs all your members via DM about upcoming events like GvE and GvG so you group will never miss an event ever again!
Looking For Group, Statics, or Players
You can create groups or statics with LF.Group using a wide range of options with specific parameters for each game mode. This really lets you hone in on finding that perfect player or that perfect group. If you're running a group, you can enable the "waitlist" option to check the user's profiles before letting them join your group or static. Additionally, integrated chat makes it even easier to communicate with all group and static members.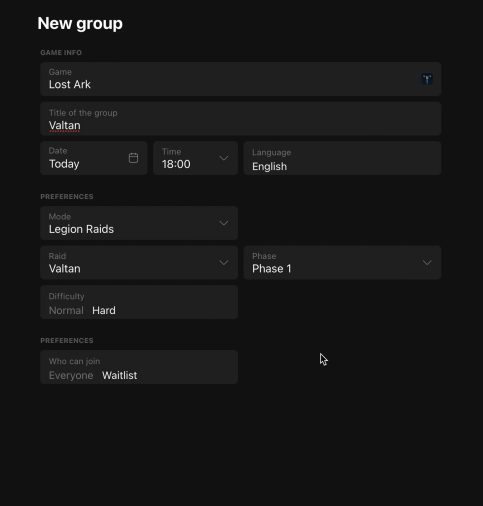 Discord Bot
You can make it even easier for your group, static, or guild to integrate with LF.Group. The website is integrated and fully synchronized with LFG bot. It can be installed on any Discord server and supports all the main features: you can create your own groups using /create commands, or join already existing ones, and even report appearing merchants or receive notifications about them.
Introduction Video