Today we have our first major update to the Last Epoch planner, the Character Import feature! You're able to import any of your online, or offline characters with a couple clicks.
More Coming Soon
This is the first of many exciting updates! As Last Epoch 1.0 approaches, we have big plans for our Last Epoch tools. Be sure to stay tuned for more information.
How to Import a Character
The Character Import feature is great for checking your resistances, min-maxing your favorite build, or sharing a snapshot of your character. To begin, head over to https://maxroll.gg/last-epoch/planner/ and select the Save/Load tab. Then click the + Icon below Save/Load to begin importing your build.

Selecting a Character
From here you have two options, depending on what type of character you're importing. For online characters, enter your Account Name (the same one you use to log in to Last Epoch) then hit "Search" to automatically pull up a list of all your online characters. Alternatively, if you want to upload an offline character, you'll need to navigate to the Save folder in AppData using the link provided. Then simply drop the save file onto the page to automatically import your offline builds.

Importing your Build
After the list populates, select a build to import. The planner contains your Equipment, Passives, Skill Specializations, Blessings, and Idols. From here go back to Save/Load if you wish to share the profile. Alternatively, you can make changes like swapping gear, trying different setups and playing around with skill trees.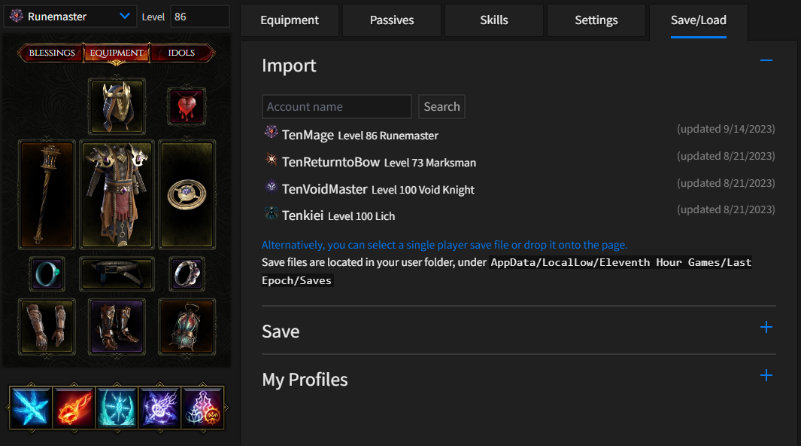 Link Your Favorite Build
The character import API is public, so you're able to import anyone's build, and not just your own. For example if you want to see what LizardIRL or McFluffin are up to simply enter their Account name, hit "Search," and you're good to go. You can grab yourself a McFrostClaw with a side of Lizard_IRL_Rune, and continue your exploration of the Runemaster class.
After importing a build, remember to save the profile for later. The Last Epoch Character Import is a great way to learn about a diverse range of builds, or experiment with different Exalted and Unique items to min-max your current character.
Other Updates
The Last Epoch Builder received a few other small updates recently including:
Full database update for 0.9.2.
The addition of Experimental Affixes.
Several bug fixes.
Video
This video demonstrates the Last Epoch Character Import and some basic features.
Keep Blasting to 1.0!
With the latest patch, Last Epoch is truly shaping up to be everything we want and more! We hope you enjoy the new Runemaster guides, along with the many updates to other resources as well. More is coming down the line as we look towards 1.0 and more in the future!
If you haven't already, head over to our Discord and select the Last Epoch role in #roles to stay up to date with our content development.