Here's a look at the new Skill Tattoos, Trial of the Ancestors Warrior equipment, and new Minions coming to the reworked Guardian Ascendancy!
Skill Tattoos
Skill Tattoos modify Attribute Passives on your tree, replacing their effect with unique bonuses themed around the 10 Karui Tribes. There's no laser removal in Wraeclast but you can remove Tattoos with an Orb of Regret. You're limited to 50 Tattoos across your entire passive tree.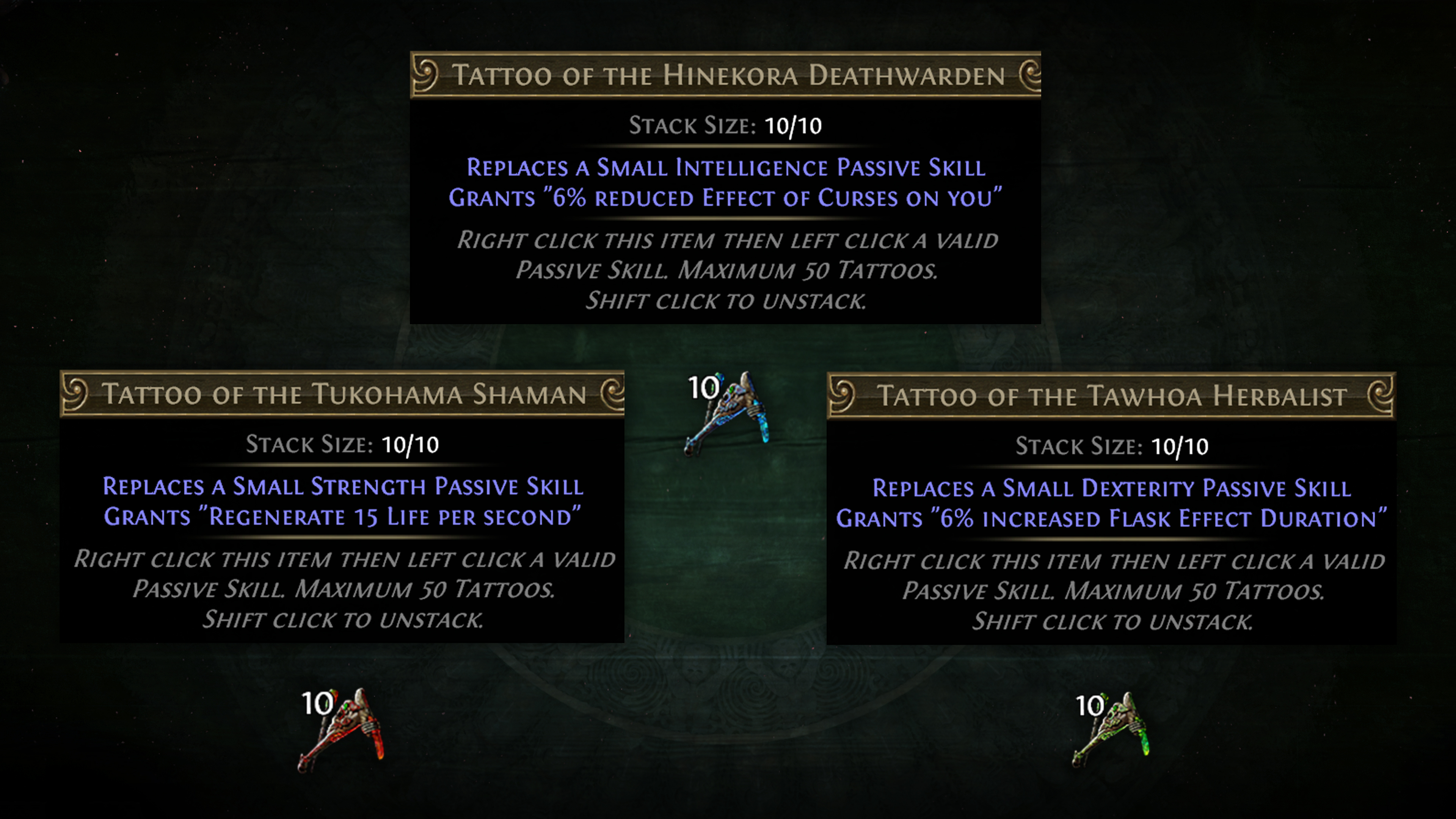 Tattoo of the Tukohama Shaman replaces Small Strength Passive Skills with 15 Life Regenerated Per Second.
Tattoo of the Hinekora Deathwarden replaces Small Intelligence Passive Skills with 6% Reduced Effect of Curses on you. Combine this with other Curse Reduction effects for functional Curse immunity!
Tattoo of the Tawhoa Herbalist replaces Small Dexterity Passive Skills with 6% increased Flask Effect Duration, allowing anyone to roleplay as a Pathfinder.
Other Tattoos Revealed:
Ngamahu Firewalker replaces small Strength Passive Skills with +8% to Fire Resistance.
Loyalty Tattoo of Utula replaces a small Strength Passive Skill with Trigger Level 20 Summon Spirit of Utula on taking a Savage Hit from a Unique Enemy.
Ramako Scout replaces small Dexterity Passive Skills with 2% Increased Movement Speed.
Valako Storm Conduit replaces small Intelligence Passive Skills with Adds 1 to 7 Lightning Damage.
Honoured Tattoo of the Hatungo replaces small Attribute Passive Skills with 1% Increased Reservation Efficiency of Skills.
Honoured Tattoo of the Wise Man replaces a +30 to Intelligence Notable Passive Skill with +1 to Level of All Intelligence Skill Gems.

(Limit 1 Notable Tattoo per Attribute)
Warrior Equipment
When competing in Trial of the Ancestors you'll need to equip your chosen team of Warriors, here are some of the items you can use to help claim victory!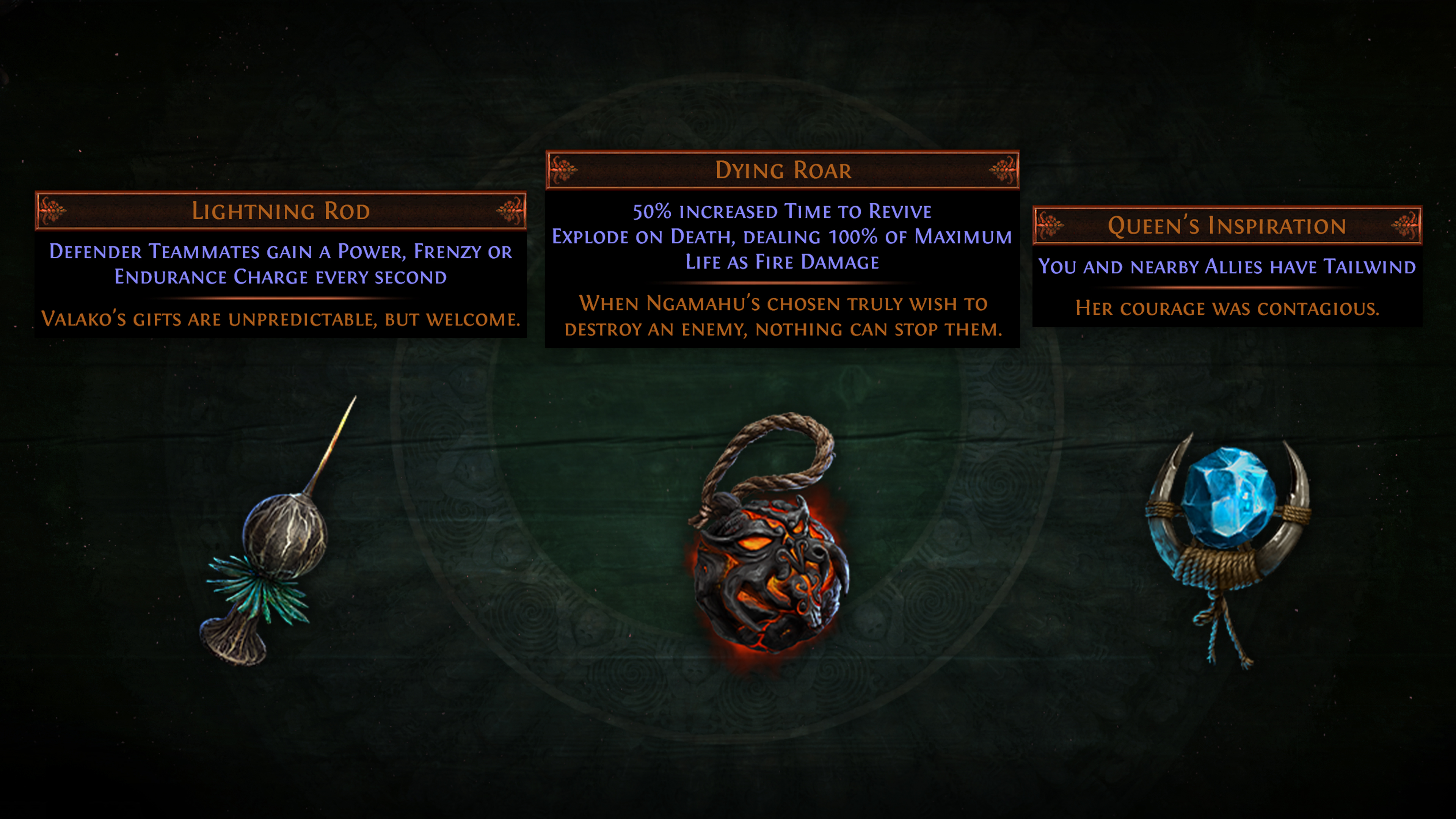 A

Defender

Warrior equipped with

Lightning Rod

generates a random Charge every second for Teammates.
With the

Dying Roar

equipped, the Warrior explodes on death dealing Fire Damage based on their Life in a glorious display of dedication to Ngamahu. However, their revival time is increased making deaths more punishing.
A Warrior bearing

Queen's Inspiration

gains

Tailwind

and grants it to allies increasing the team's Action Speed by 8%.
We look forward to seeing what other crazy effects players gain access to when competing in the Trial of the Ancestors tournament!
Guardian Minions
As part of the Guardian Ascendancy Rework in PoE's 3.22 Expansion GGG added 2 completely new Minion Skills!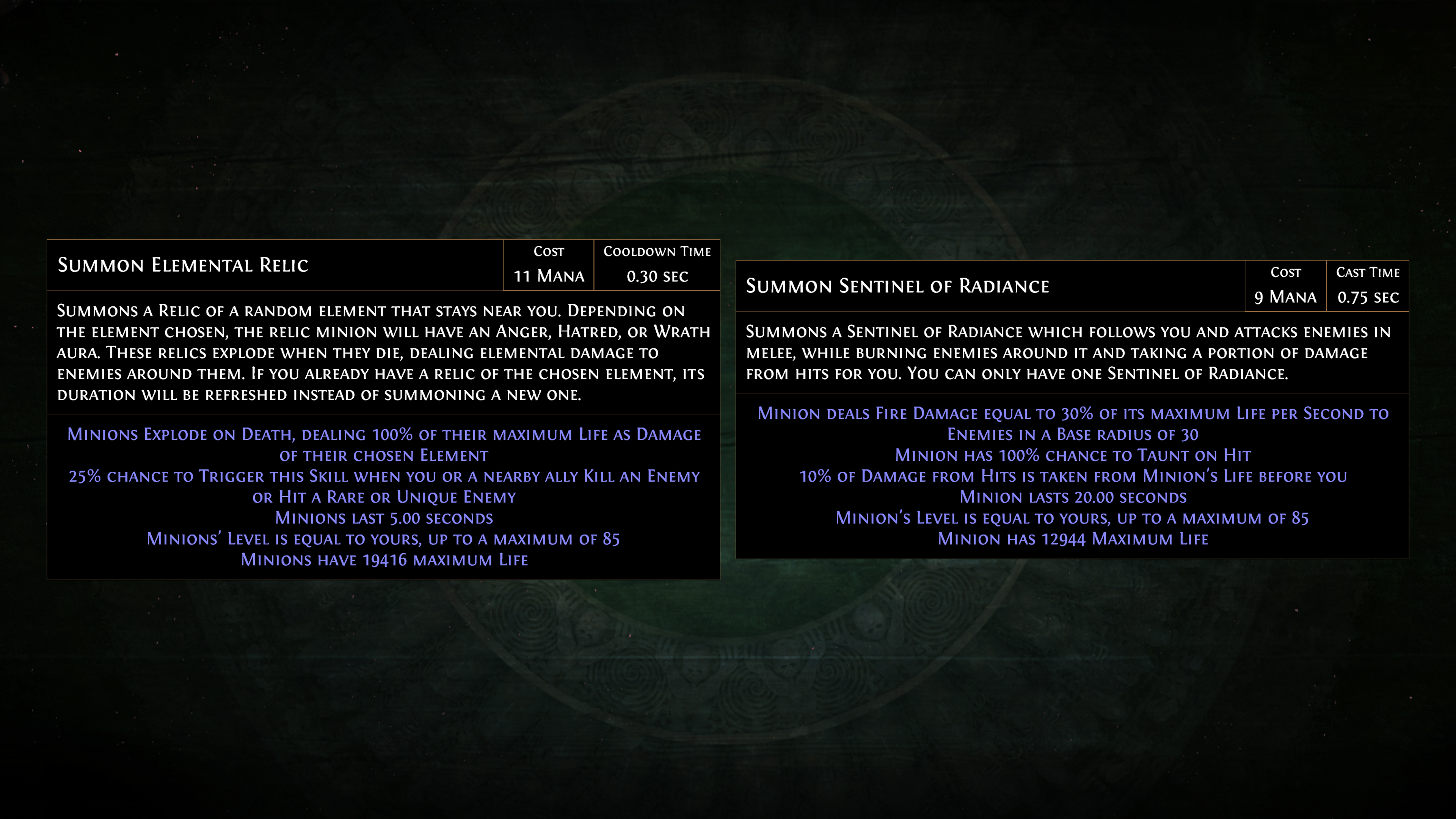 Summon Sentinel of Radiance looks similar to the Sentinel of Purity summoned by Herald of Purity crossed with Righteous Fire. With 100% chance to Taunt on Hit they should be useful for locking down enemies as they Burn to death. The Sentinel of Radiance increases your survivability by taking damage for you.
Summon Elemental Relic creates a minion which explodes on death dealing Elemental Damage based on the Relic's maximum Life. You can summon a Fire, Cold, or Lightning Elemental Relic. These minions provide a Level 28 version of the the Anger, Hatred, and Wrath Auras while active.
Hungry for More?
Skill Tattoos add exciting new build options, the Guardian Minions look great, and remember the equipment for your Warriors when competing in Trial of the Ancestors.
Video
As more teasers are released we'll post them along with our thoughts. There's a lot to look forward to in Trial of the Ancestors, and you haven't already done so, check out our ExileCon Wrapup for the hottest Path of Exile 2 news. Then head over to our Discord and select the Path of Exile role in #roles to stay up to date with our content development. Stay sane, Exile!