---
Introduction
Proper setup of key binds is the single most important step to prevent stress on your hands while playing PoE. Take care to set keys to natural places your fingers can reach and rest, adding in your extra mouse keys if you can. Setting up the proper options provides a ton of valuable information you need to play the game.
---
Extra Skill Bar
In the bottom right you have a skill bar with eight slots for skills. Hold CTRL to allow an extra set of 5 keys to be bound. To change what key an ability is set to, just click on the skill bar and choose the picture of the new ability to bind to that key.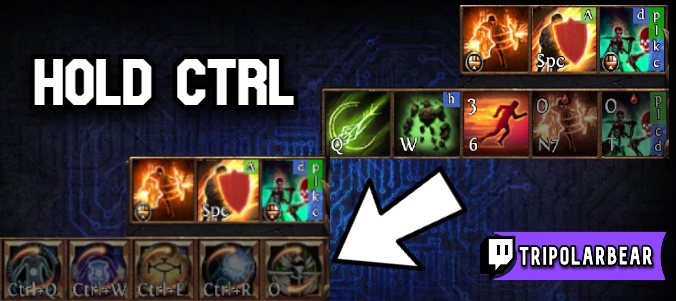 Bind an "Instant" use skill (without cast time) to your left mouse button on the skill bar. This allows you to "use" a skill as soon as it's off cooldown while moving with left mouse button, without really adding an extra button to your playstyle.
---
Key binds and Options
To setup new key binds:
Go into the PoE options
Select the "Input" tab
Change key binds 1-13 to your needs

Key binds 9-13 are the "CTRL" skill bar abilities.
Most players put their permanent aura's on 9-13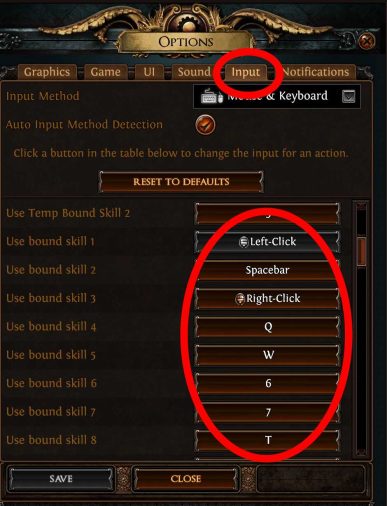 Now setup your other options to have more visual clarity and useful information presented to you.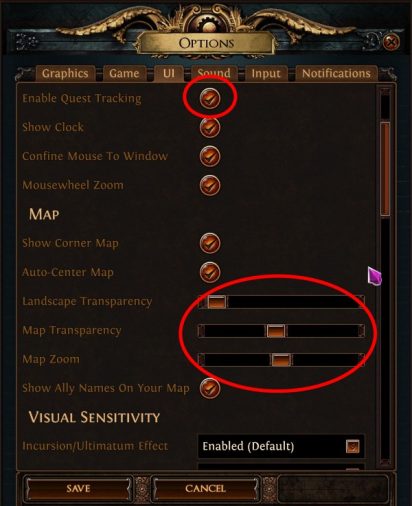 Turn on:
Quest Tracking
Clock
Show Corner Map
Auto-Center Map
Tune:
Landscape Transparency
Map Transparency
Map Zoom
Screen Shake and Camera Rotation Effects

Turn these off to stop jittering gameplay.
Turn on:
Always Show Sockets
Socket Notches
Full descriptions

Hold "Alt" to see the "tier" and rolls of your item's modifiers

Support Gem Utility Popup

Hover a support gem, getting a list of supportable active gems you have socketed
This is helpful for new players

Show Life/Mana Levels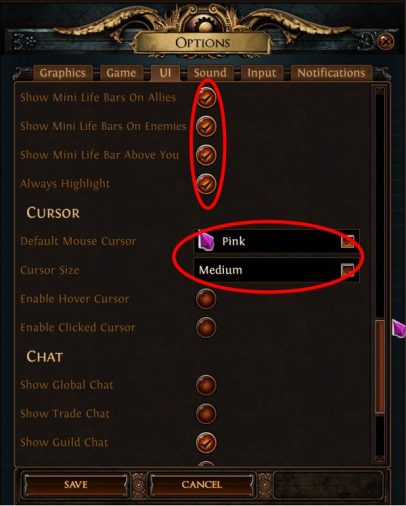 Turn on:
Mini Life Bars On Allies
Mini Life Bars On Enemies
Mini Life Bar Above You
Tune:
Default Mouse cursor
Cursor Size
---
Summary
Hold CTRL to unlock an extra 5 key binds.
Turn on all Life Bars, tune the map and adjust cursor options to your preferences.
Put "Instant" abilities on the left mouse button to use instantly while moving.
If you have any questions, come ask them on my livestream Twitch.tv/TriPolarBear
---
Credits
Written by Tripolarbear.
Reviewed by Facefoot.
---
Changelog
Jul 6th 2022
Article Created.
---
---
---