---
Introduction
Skill Trees in Lost Ark provide you with some of the largest power increase while requiring very little investment. The system has recently received a complete overhaul in the Korean server and brought many positives with it. Not before long it will arrive here for us too! So let's go over the changes and the most important Skill Trees of each class to save into your Inventory and have them ready to go for when we receive this update.
---
Skill Tree Transfer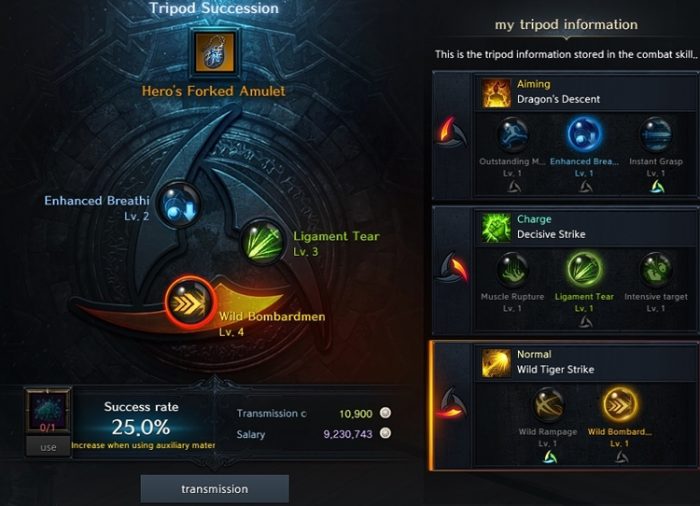 The Skill Tree Inventory is getting removed, and every effect saved within it will be brought over to the new system! The transfer system on the other hand has roughly stayed the same. By running your

Chaos Dungeons, you will obtain amulets. Just like broken gear before, these will contain Skill Trees with various levels on them. Bringing them to the

Transfer Skill Tree NPC gives you the chance to transfer one effect of your choice to your character and unlock it permanently. A drawback of this new system will be having to choose between multiple Lv.5 Skill Trees if they are present on the same amulet, as only one of them can be used for the transfer. Additionally, the right side of the interface provides you with information about the Skill Tree layout and the levels you've obtained so far for the specific skill you've selected.
Important note: Skill Trees currently found on your equipped gear will not transfer over to the new system. So make sure to save them in the Skill Tree Inventory with any update you make.
---
Success Rate Increase & Level Changes
Skill Tree Level Numerical Change
Previously, a Lv+3 Skill Tree meant that your effect will become Lv4 by adding +3 to the base skill level, which is Lv1. The new change simplifies this by showing the level you will obtain immediately:
Lv+1 → Lv.2
Lv+2 → Lv.3
Lv+3 → Lv.4
Lv+4 → Lv.5
Transfer Rate Change
With the Skill Tree Inventory being removed, the only way to obtain them comes from transferring. As a result, the rates have increased.
| | | |
| --- | --- | --- |
| Skill Tree Level | Base Success Rate | Powder Rate |
| 2 | 100% | N/A |
| 3 | 30% → 50% | 60% → 100% |
| 4 | 15% → 25% | 30% → 50% |
| 5 | 5% → 10% | 10% → 20% |
---
Selecting Your Skill Trees
With Skill Trees no longer being applied to your gear, they will now be permanently unlocked to your character. Exactly like the Book of Coordination for Inferno Legion raids, you'll be able to select up to 18 Skill Trees for your build by simply choosing the effect level you've attained so far. This grants easy skill customization for contents like:

Chaos Dungeons,

Cube,

Boss Rush, Platinum fields and other activities. All of that with just a click of a button. Keep in mind that unlocked effects are character specific and are not Roster wide.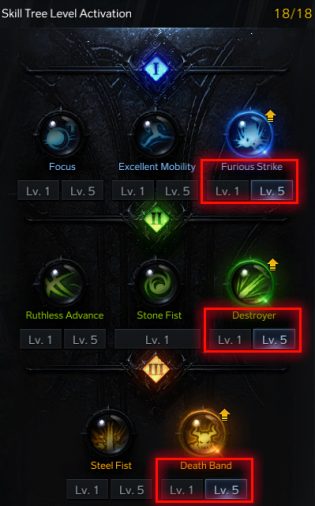 ---
How Do I Prepare ?
Everything saved in the Skill Tree Inventory will be transferred over to the new system automatically. This means that now is the perfect time to prepare for this change by saving up as many max level Skill Trees as possible. Two free inventory pages with 6 gear slots each are available to everyone at the

Transfer Skill Tree NPC, with the option to purchase 3 additional pages by paying blue crystals. Purchase an additional page if you wish to prepare your entire build at max level ahead of time. This will let you save 18 Skill Tree effects across 3 pages, which is the maximum a character can use for a build. This will also be significantly cheaper than buying items with multiple level 4 Skill Trees on them.
Decide how many Skill Tree Inventory pages you want to utilize.
Find or Purchase max level Skill Trees from the Auction House and save them in your Skill Tree Inventory.
Remember that broken gear used to save effects into the inventory can be resold on the Auction House as long as it can still be traded.
Make sure to use all slots, so they contain either 1 or even 2 max level Skill Trees.
Save broken gear with max level Skill Trees that are not part of your main build in your Personal Storage, this way you can try to transfer them with increased success rates in the new system later on.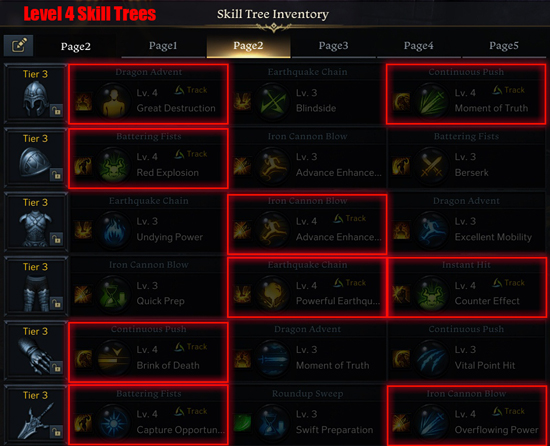 ---
Best Initial Skill Trees
Highlighted here are the six most important Skill Trees for each class. This will help you establish a good base to build upon. Note that if you prefer using a different set of skills, you may want to adjust Skill Trees according to your preferences. Try to reach level 3 or 4 on the remaining Skill Trees, as they remain an important part of your build.
Check out our Build Guides for the remaining Skill Tree options within each class!
Assassin

Remaining Energy
Maelstrom
Void Strike
Soul Absorber
Blitz Rush

Charge Enhancement
Shadow Rush
Surge
Spincutter
Wind Cut
Soul Absorber
Blitz Rush

Charge Enhancement
Shadow Rush
---
Gunner

Recommendation: Consider saving Skill Trees providing extra Crit Rate like: Steady Aim and Vital Point Hit within the 2nd Inventory page when running Loyal Companion.
Death Strike
Snipe

Weak Point Detection
Easy Prey

Arrow Wave
Sharp Shooter
Blade Storm
Loyal Companion
Snipe

Quick Prep
Weak Point Detection
Easy Prey

Arrow Wave
Charged Shot
---
---
Martial Artist

Shock Training
Death Rattle

Single Hit
Shock Explosion

Supernova

Piercing Strike
Spinless Hit

Chain Destruction Fist

Endless Rage
Shaking Ground
Ultimate Skill: Taijutsu
Battering Fists
Iron Cannon Blow

Overflowing Power
Advance Enhancement

Dragon Advent

Moment of Truth
Great Destruction
---

Berserker's Technique
Finish Strike

Enhanced Strike
Weak Point Detection
Lights Out

Strike Wave
Hell Blade
Red Dust
Mayhem
Finish Strike

Enhanced Strike
Weak Point Detection
Lights Out

Strike Wave
Hell Blade
Red Dust
---
Summary
Find or purchase the ideal Skill Trees for your class and save them in your Skill Tree Inventory.
Fill up as many inventory slots as you can with useful max level Skill Trees for your build.
Equipped Skill Tree effects on your gear will NOT carry over into the new system.
Skill Tree Inventory will be removed and all saved effects within it carry over into the new system.
All Skill Tree effects will now be permanently learned upon a successful transfer.
These effects are not Roster wide. Every character will have to unlock their own Skill Tree levels.
Transfer success rates will be doubled.
Old Broken Gear pieces you own from Chaos Dungeons will remain until they are used up.
A new item type that functions the same way as Broken Gear will now drop from Chaos Dungeons.
The available Skill Trees a character can use remain 18 and are implemented directly in your skill page (K).
Credits
Written by Choilicious
Reviewed by Yaen & Reitear
---
---