---
Introduction
Welcome to our Incursion Guide, Exile! This league mechanic has been introduced in Patch 3.3 with the launch of Incursion League (June 2018). With it came the ability to double-corrupt both items and skill gems for the first time, allowing players to customize their characters with powerful combinations of implicit stats and scale their power higher than before.
While over time other sources of such items or corruption outcomes have been introduced (especially through Divination Cards), running Incursions and subsequently the Temple of Atzoatl is still the most reliable way to hunt for them. Along with the league, a few league-specific unique items and temple-specific item affixes have been introduced that crafters can use in their efforts of making a dream item. Let's jump in and see what it's all about!
---
Temporal Incursions

There are two types of interconnected content available through this league mechanic. The first are Temporal Incursions. As one of the Masters, Alva the Master Explorer has a small chance (2%) to appear in your Maps. Offering you a journey to the past, to alter the Temple's future up to 3 times (given that no other Master are forced to appear through e.g. Rusted Bestiary Scarab or a Map Device Mod). This process can be repeated until a total of 12 Incursions (4 Maps) are run. Unused Incursions are lost and require you to find Alva an additional time.
Inside an Incursion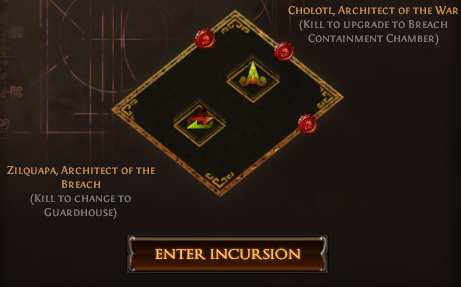 You are on a timer seen at the top of the screen. If it expires, you get kicked out. Defeating enemies increases the time limit based on their rarity.
No loot drops inside. Instead, it accumulates from defeating enemies and drops at the end of the encounter.
A progress bar at the bottom indicates how many monsters have already been defeated (and how much loot will drop at the end).
Two Architects are present in different parts of the Incursion, each marked with an icon on the minimap. You can choose to defeat one, making the other despawn and allowing the survivor to alter the room in the Temple's future.
If there is at least one unopened (red) door left, you will find one guaranteed Stone of Passage by defeating all enemies in the area, allowing you to alter the Temple by opening one of the doors.
If there are two or more unopened doors left, there is a small chance to obtain a second Stone of Passage.
If all doors are already open (green), no Stone of Passage will drop. The stone is lost upon leaving the incursion, so it can't be carried and used in the next Incursion.
As part of the roster of Masters, Alva accumulates missions as you run maps. In the Map Device, you can choose to run a map with her present by selecting her Master icon, given you have missions for that color of map available.
Building a Temple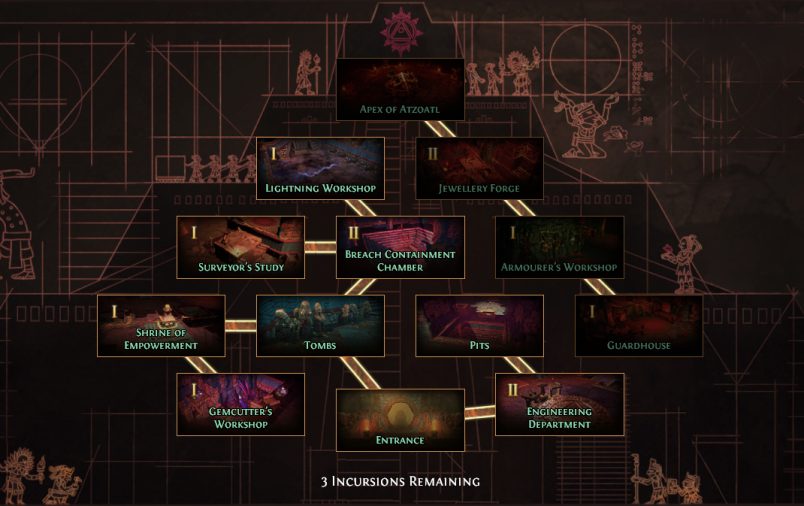 When you start out with a new temple, you will have a random variety rooms at either Tier 0 or Tier 1 (marked with Roman numerals) with a random amount of connections between them. Your objective is to use your 12 Temporal Incursions to change and upgrade these rooms to a desirable layout while also connecting them by opening doors with a Stone of Passage.
You upgrade rooms by 1 Tier at a time when defeating the competing Architect during an Incursion. Changing a room to another makes the new room Tier 1. Both cases can be assisted through Atlas Passives (see below).
Rooms that aren't connected to the rest of the Temple after the final Incursion can't be accessed unless a barricade is broken with an Explosive Charge acquired from an Explosives Room.
The Apex, Entrance and any room already upgraded to Tier 3 cannot be chosen for an Incursion.
When the Temple is finished (0 Incursions remain), Alva can open the Temple for you. This is a separate instance shaped in the layout of your making, accessed through six portals at your map device. If you wish to save it for later or sell the Temple, you can instead take her Chronicle of Atzoatl with no downside.
The zone level of the Temple is determined by the Incursions used to build it with the following rules: (average zone level of all incursions + 10), capped by the highest Incursion run. This makes running at least one high-level Incursion worth it to produce a high-level Temple, but otherwise lets you build it in lower Tier Maps if you choose to.
---
Types of Rooms
There are many different rooms in the Temple. With your choices of defeating certain Architects while keeping others alive during Temporal Incursions, you can adjust them to your liking.
There are different Tiers of rooms, ranging from 0 to 3.
Tier 0 rooms offer no value at all. They are just filled with random monsters.
Certain rooms only become valuable at Tier 3 by gaining a special ability or drop.
Loot-based rooms always offer a little bit of value on all Tiers.
Each room augments the entire Temple with extra zone mods and in some cases also the final boss.
Loot Rooms
These rooms are straightforward in the way that any Tier already provides some value and extra loot, which typically makes them worth clearing. The higher, the better, but currency, maps and other items are always great to find!
| | | | | |
| --- | --- | --- | --- | --- |
| Tier 1 | Tier 2 | Tier 3 | Loot | Architect |
| Storage Room | Warehouses | Museum of Artifacts | Misc. | Jualotli, Architect of the Hoard |
| Sparring Room | Arena of Valour | Hall of Champions | Weapons | Ticaba, Architect of the Arena |
| Armourer's Workshop | Armoury | Chamber of Iron | Armour | Atmohua, Architect of Iron |
| Jeweller's Workshop | Jewellery Forge | Glittering Halls | Jewellery | Azcapa, Architect of the Guild |
| Hall of Mettle | Hall of Heroes | Hall of Legends | Legion | Opiloti, Architect of Strife |
| Splinter Research Lab | Breach Containment Chamber | House of the Others | Breach | Zilquapa, Architect of the Breach |
| Strongbox Chamber | Hall of Locks | Court of Sealed Death | Strongboxes | Zantipi, Architect of Concealment |
| Torment Cells | Torture Cages | Sadist's Den | Tormented Spirits | Tzamoto, Architect of Torments |
| Vault | Treasury | Wealth of the Vaal | Currency | Estazunti, Architect of the Vault |
| Surveyor's Study | Office of Cartography | Atlas of Worlds | Maps | Uromoti, Architect of Expansion |
Thematic Item Rooms
These rooms are themed around one item type and are typically only useful at Tier 3 for their chance to drop either craftable magic-quality items with Temple-mods on them or their corresponding unique item (see below).
| | | | | |
| --- | --- | --- | --- | --- |
| Tier 1 | Tier 2 | Tier 3 | Theme | Architect |
| Poison Garden | Cultivar Chamber | Toxic Grove | Poison | Tacati, Architect of Toxins |
| Trap Workshop | Temple Defense Workshop | Defense Research Lab | Traps | Matatl, Architect of Fortifications |
| Pools of Restoration | Sanctum of Vitality | Sanctum of Immortality | Regeneration | Guatelitzi, Architect of Flesh |
Omnitect Upgrade Rooms
These rooms work similar to the Thematic Item Rooms but also upgrade the boss to be slightly more difficult.
| | | | | |
| --- | --- | --- | --- | --- |
| Tier 1 | Tier 2 | Tier 3 | Theme | Architect |
| Workshop | Engineering Department | Factory | Crucible | Jiquani, Architect of Industry |
| Flame Workshop | Omnitect Forge | Crucible of Flame | Fire | Puhuarte, Architect of the Forge |
| Lightning Workshop | Omnitect Reactor Plant | Conduit of Lightning | Lightning | Xopec, Architect of Power |
| Hatchery | Automaton Lab | Hybridisation Chamber | Minions | Citaqualotl, Architect of the Swarm |
Special Rooms
These are some of the most sought-after rooms, especially for their ability to upgrade or double-corrupt items and gems. Throne of Atziri spawns regular Atziri which depending on the zone level and mods can make her more deadly than Uber Atziri. Others add Tempests for a chance at corrupted items or just increased pack size for more enemies. Explosive Charges are useful to break closed doors to either take shortcuts to the Apex or access unconnected rooms.
| | | | | |
| --- | --- | --- | --- | --- |
| Tier 1 | Tier 2 | Tier 3 | Reward | Architect |
| Sacrificial Chamber | Hall of Offerings | Apex of Ascension | Sacrifice/upgrade uniques | Ahuana, Architect of Ceremonies |
| Corruption Chamber | Catalyst of Corruption | Locus of Corruption | (Double-corrupting) Items | Paquate, Architect of Corruption |
| Gemcutter's Workshop | Department of Thaumaturgy | Doryani's Institute | (Double-corrupting) Gems | Zalatl, Architect of Thaumaturgy |
| Shrine of Empowerment | Sanctum of Unity | Temple Nexus | Upgrade connected rooms | Quipolatl, Architect of the Nexus |
| Royal Meeting Room | Halls of the Lords | Throne of Atziri | Contains Atziri | Xipocado, Royal Architect |
| Tempest Generator | Hurricane Engine | Storm of Corruption | Spawns Tempests | Topotante, Architect of Storms |
| Guardhouse | Barracks | Hall of War | Increased pack size | Cholotl, Architect of War |
| Explosives Room | Demolition Lab | Shrine of Unmaking | Explosive Charges | Hayoxi, Architect of Destruction |
Empty Rooms
Here are the empty (Tier 0) rooms. They don't add any value at all besides random monsters that you can choose to fight during your Temple run.
Antechamber
Banquet Hall
Cellar
Chasm
Cloister
Halls
Passageways
Pits
Tombs
Tunnels
Lastly, fixed parts of every Temple are the Entrance (at the far bottom) and the Apex (at the far top) containing The Vaal Omnitect boss.
---
The Vaal Omnitect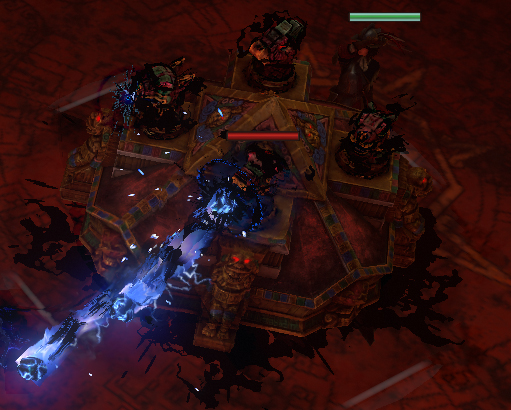 This is the final boss of any Temple of Atzoatl. It's a floating construct that moves around the area and fires various spells from each of its four turrets at you. Some rooms specifically upgrade the boss with extra abilities or minions (see above), but it's generally a very predictable and easy encounter. The only thing you need to worry about being its AoE abilities, focus on the big telegraphed abilities. Two of the most dangerous ones are the flame beams and the lightning waves. Also, standing very close or inside the boss stacks up a Damage over Time effect that can become deadly after some time.
Alva assists you in the fight with auras and buffs. At 50%, there's an intermission phase where the boss returns to the center and spawns waves of minions walking towards it, which will replenish Energy Shield.
The boss drops rare-quality items with temple mods on them, one of a number of Incursion-specific unique items, one of the Vials (see the table below) and String of Servitude that comes with 1-2 massively buffed corrupted implicit modifiers.
---
Tips & Tricks
Temple-Building
When you find a room you want to upgrade as much as possible, you can skip remaining Incursions in the area afterwards. The same room can't be chosen twice in the same set of 3 Incursions, so skipping the other two increases your chances to get it again the next time you encounter Alva. This results in fewer Temples to run but leads to a higher-quality Temple layout.
If you are trying to build your Temple for one or a few specific rooms only (e.g. Locus of Corruption for double-corrupting items or Doryani's Institute for double-corrupting gems), you can upgrade any room that can't be changed to either one of those or the Shrine of Empowerment (which upgrades adjacent rooms). Max level rooms can't be chosen in Incursions, which increases the chances of getting one you seek.
Shrine of Empowerment and its first upgrade Sanctum of Unity boost adjacent connected rooms only. By opening the right doors and leaving others closed you can increase the chances for it to hit the right one if a desirable room is next to it. The final upgrade of that room, Temple Nexus, upgrades all nearby rooms regardless of connections.
Double-corrupting items has the following outcomes: 2 corrupted implicits, all white sockets, brick into influenced rare item, delete item ("poof"). Double-corrupting gems has the following outcomes: +/- one level, +/- quality (up to 23), Vaal version if available, nothing. It's possible to obtain level 21/23 quality gems or level 21 Vaal gems this way. Check out our dedicated post about these mechanics by Chewingnom to learn more about how corruption works.
Survival Tips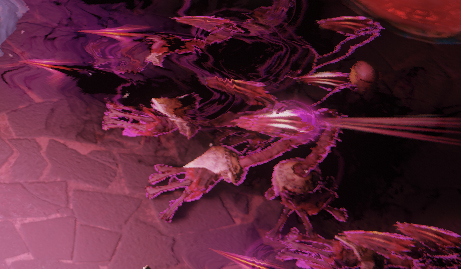 In Incursions and the Temple itself, there can be large packs of Ancient Construct monster types. These shoot darts at you from a great distance and generally come in big packs. Make sure to move in zig-zag patterns when you encounter large packs of them. If your build runs with any minions, prepare to instantly dodge a barrage of incoming projectiles upon entering.
Most Architects have very powerful, telegraphed AoE attacks you generally want to avoid. Be especially careful when they are possessed by Tormented Spirits (from Torment Cells room).
If you're trying to build a Locus of Corruption (for double-corrupting items) but are running out of Incursions, change that room to another to remove the penalty to maximum Player Resistances in the Temple. This room is mentioned specifically because its penalty is very dangerous for most builds and without reaching Tier 3 it has no value at all.
---
Incursion Mods
There are a variety of different Incursion-specific items and mods you can find from the Temple or other sources of Incursion league-specific loot boxes.
They are typically very powerful (comparable to Tier 1 rolls), outperforming similar mods on regular items if a build can capture their full potential. The big downside is that most of the time, lots of further crafting is needed to produce a truly great result, which may invalidate the item because the Temple mod could be lost in the process.
The prefix/suffix names are based on the type of architect that builds these rooms (e.g. "Citaqualotl's ..." or "... of Puhuarte") so they can be easily identified when viewing an item and holding down "Alt" for advanced mod descriptions.
Many of them have a hybrid effect, e.g. they give % and flat damage or life at the same time or similar.
Some notable Temple Mods:
+(70-79) to maximum Life / 2% increased maximum Life (Rings, Amulets)
+(44-47) to maximum Energy Shield / 3% increased Maximum Energy Shield (Rings, Amulets)
+(46-48) Fire/Cold/Lightning Resistance / 3-5% of Physical Damage from Hits taken as Fire/Cold/Lightning Damage (Helmets)
+(46-48) Fire/Cold/Lightning Resistance / 0.4% of Fire/Cold/Lightning Damage Leeched as Life (Amulets)
There are many more Temple mods that are worth considering because of how powerful they are, but these are some of the most commonly used or impactful you can find for certain builds. To check out a full list of their potential affixes, take a look at the Database!
---
Incursion Uniques
There are a number of incursion-specific unique drops that can be acquired either from their respective Tier 3 rooms or the Omnitect. Additionally, some of these can be upgraded using Vials that drop from The Vaal Omnitect. In order to do so, you need to build an Apex of Ascension (Tier 3 sacrifice room) and use the required Vial together with the base unique item.
| | | | | |
| --- | --- | --- | --- | --- |
| Unique | Upgraded | Vial | Theme | Source |
| Apep's Slumber | Apep's Supremacy | Vial of Awakening | Poison | Toxic Grove |
| Architect's Hand | Slavedriver's Hand | Vial of Dominance | Traps | Defense Research Lab |
| Coward's Chains | Coward's Legacy | Vial of Consequence | Minions | Hybridisation Chamber |
| Dance of the Offered | Omeyocan | Vial of the Ritual | Lightning | Conduit of Lightning |
| Story of the Vaal | Fate of the Vaal | Vial of Fate | Fire | Crucible of Flame |
| Mask of the Spirit Drinker | Mask of the Stitched Demon | Vial of Summoning | Regeneration | Sanctum of Immortality |
| Sacrificial Heart | Zerphi's Heart | Vial of Sacrifice | Vaal skills | Vaal Omnitect |
| Soul Catcher | Soul Ripper | Vial of the Ghost | Vaal souls | Vaal Omnitect |
| Tempered Flesh | Transcendent Flesh | Vial of Transcendence | Strength | Vaal Omnitect |
| Tempered Mind | Transcendent Mind | Vial of Transcendence | Intelligence | Vaal Omnitect |
| Tempered Spirit | Transcendent Spirit | Vial of Transcendence | Dexterity | Vaal Omnitect |
---
Atlas Passive Tree
There are 4 different Passive wheels with a total of 6 Notables on the Atlas Passive Tree, all of which are located near the center in the left half. They affect how you can interact with the league mechanic, making it way more rewarding if you invest into them.
Small Passives
Incursion Item Quantity

5% increased Quantity of Items dropped in Incursions in your Maps

Incursion Rare Chance

Incursion Architects in your Maps have 20% chance to drop an additional Rare Incursion Item

Incursion Mission Chance

Your Maps have 1% chance to grand an additional Alva Mission on Completion

Incursion Pack Size

Incursions in your Maps have 5% increased Pack Size

Incursion Upgrade Chance

Killing non/resident Architects in zour Maps has 10% chance to add an additional Upgrade Tier to the surviving Architect's Room
Notables
Time Dilation

Incursions in Areas have 33% chance for all Monsters to be at least Magic
Time gained from kills is Doubled for Incursions in Areas

Resource Reallocation

Killing non-resident Architects in Areas has 40% chance to add an additional Upgrade Tier to the surviving Architect's Room (+1 small node before it = 50%)
Non-Resident Architect = the one that can be killed to upgrade the room

Contested Development

Killing resident Architects in Areas adds their Upgrade Tier to the surviving Architect's Room
Resident Architect = the one that can be killed to change the room

Vaal Oligarchs

Incursions in Areas contain a Vaal Flesh Merchant (drops currency stacks and Fateful Meeting)

Artefacts of the Vaal

Areas have 3% chance to grant an additional Alva Mission on Completion
Incursion Architects in Areas have 60% chance to drop an additional Rare Incursion Item

The Perpetual Search

Areas have 4% chance to grant an additional Alva Mission on Completion
Most of the small nodes are giving related perks such as Alva Mission chance, pack size and quantity of items dropped.
---
Incursion Farming Strategies
For building the best Temple layouts with many Tier 3 rooms consistently, the two Notables Resource Reallocation and Contested Development are a must-have. This allows you to freely swap rooms an keep their Tiers without going back to 1, while often giving you a bonus Tier when just upgrading. If you are looking to sell your Chronicle of Atzoatl (a finished Temple as an item), the most valuable rooms are typically Locus of Corruption (double-corrupt items), Doryani's Institute (double-corrupt gems) and Apex of Ascension (sacrifice/upgrade items with Vials).
Time Dilation is an amazing bonus to enhance your Maps, especially when combined with other league mechanics such as Delirium and high pack size/item quantity. Incursions can greatly contribute to the overall amount of loot dropped from a Map in those cases.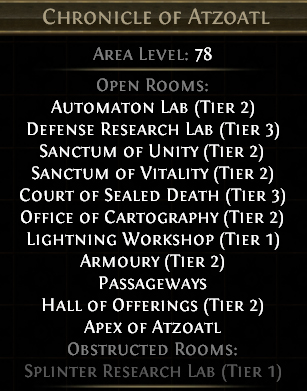 A good long-term strategy is to invest into additional Alva Mission chance (including The Perpetual Search) early in a league to stack up her missions and avoid running them until a later point where you allocate the other passives to profit the most from them.
---
Summary
The Temple of Atzoatl is a great tool for double-corrupting items or skill gems and provides lots of other great loot if built correctly.
Before entering Incursions, always check for the right Architect to defeat to either upgrade the room or change it to another.
Always open doors with a general preference to the top (northern) side, to make sure you connect as many rooms as possible.
Incursions are a great source of extra loot for your general mapping returns, even when you don't care about the Temple.
Selling the itemized Temple can be valuable if it includes a few sought-after Tier 3 rooms such as the Locus of Corruption or Doryani's Institute.
Finding useful rare items or crafting bases with some of the powerful Incursion mods is rare but sometimes you can get really lucky, so always check them out!
---
Credits
Written by wudijo.
Reviewed by Enki.
---
Changelog
Jul 20th 2022
Article Created.
---
---
---