Character Customization is a fun way of making a unique character in Diablo 4 and begins right after selecting which class you want to play. The first step is the choosing a Face & Body, and then based off that the other options will differ. The Hair comes next with many ways to style it along with facial hair. Once you've chosen a suitable head for your character, then you can add Accessories all over their body. Color variations are available at each of these steps. Finally, you must choose whether you play Hardcore or Softcore and then find a name for your hero.
Face & Body
There are eight options for the Face & Body ranging from a stern face to a more relaxed facial expression. These adjustments change the eyes, cheeks, nose, mouth and jaw.
You may come back to adjust the facial expression you want based on the later adjustments that fit into the Diablo fantasy you want.
Hair
Hair adds an enormous amount of personality to your character. There are multiple options to the styling of the hair and facial hair, which allows for tons of options for how the entire head of your character is created to satisfy how you visualize your Diablo character.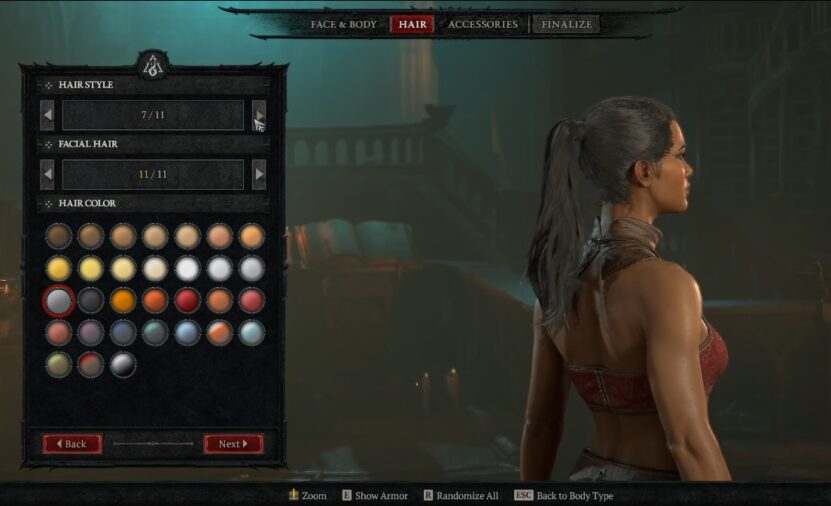 Accessories
The Accessories have some of the most amazing artwork and are made up of Markings, Jewelry and Makeup. Markings are basically tattoos that have some of the most intricate designs in the drawings and sleeves. The Jewelry pierces the ears or other parts to compliment the Face & Body and Hair styles in a subtle or abrasive way. And to top it off with the Makeup or war paint that adds a beauty or intimidation feature to your character.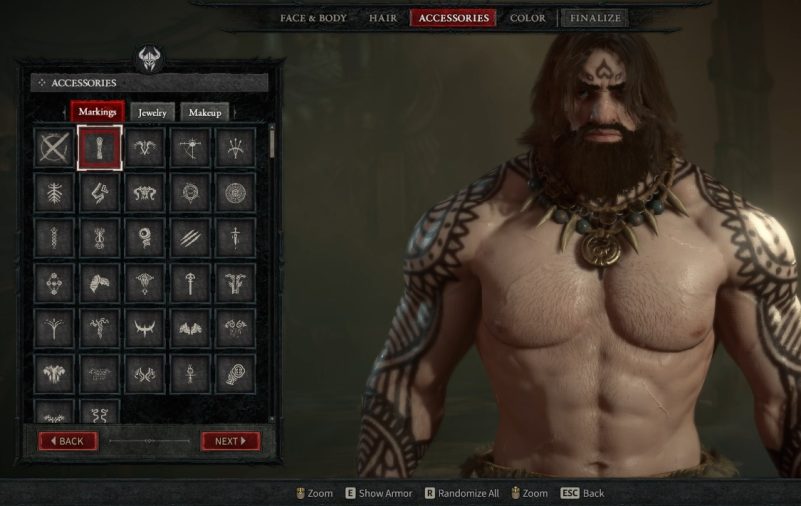 Color
Color will have the options to adjust skin tones, hair, eye, and markings color. Since Color changes how the previous Character Customizations look, you may want to go back and adjust other areas of your character because instead of a bald Barbarian, now you may want a blue-haired one! You can adjust as you find the right color for your character's appearance in the Diablo 4 world.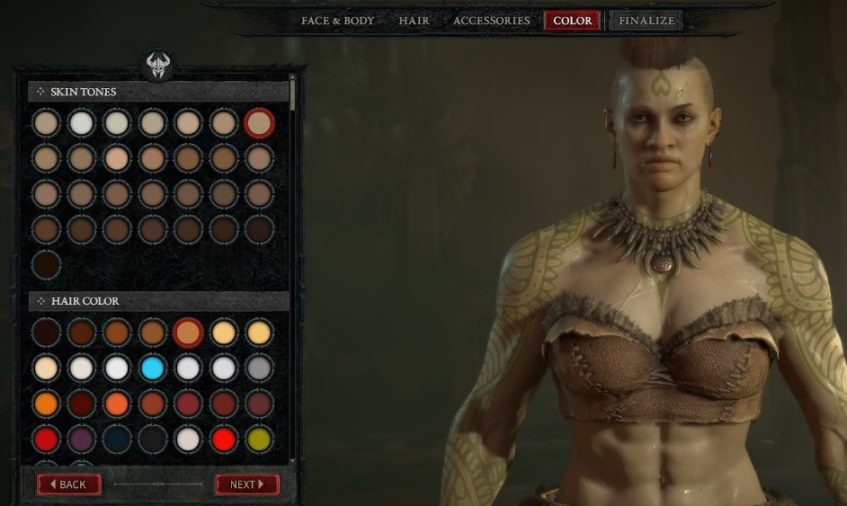 Finalize
The last choice, Finalize is to choose a name for your character and whether or not you plan to start on Hardcore. The name you input will be how players address you in game, which will vary from your account name. The Hardcore choice is a harsh one: yolo! You only live once, and you cannot get your character or gear back, but you do keep your stash and gold. So, if you begin again on Hardcore only your resources and stashed items will still be available. Combine your customized character with the Wardrobe and Transmogs section in game to finalize your character's appearance.
Summary
Customize your character your heart's desire. There are many cool options to explore!
If you're unsure: hit the randomizer button.
Credits
Written by Jymnasium
Reviewed by Dredscythe
Changelog
27 May 2023




Updated to Review Access Version of Diablo 4.

7 December 2022




Article Created from the Press Release Version of Diablo 4.