Torchlight Infinite's Trade House unlocks at level 60. This is how you buy items from other players, or sell all the loot you get while exploring the Netherrealm. Knowing how to use the Trade House is important to gearing your character because some items in Torchlight Infinite are so rare most players won't see them drop within a season.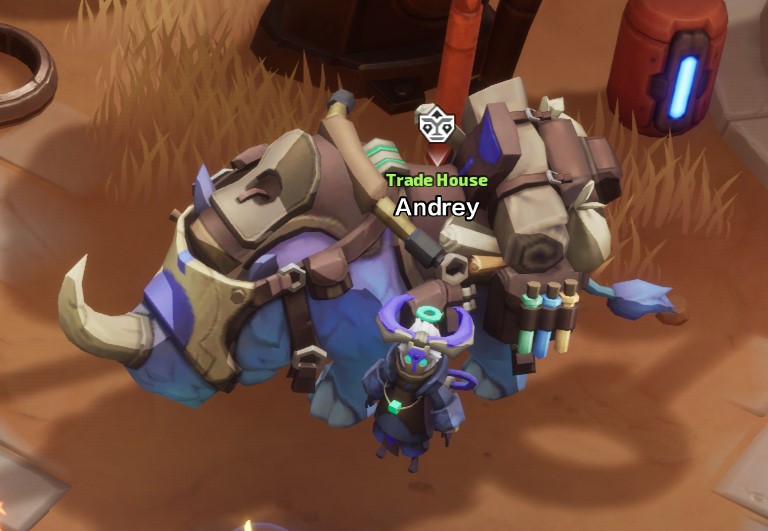 This guide covers everything you need to know to get started, for more information on how to trade like a pro check out our Advanced Trade House Guide.
Trade House UI
The Trade House UI is broken up into several categories:
Basic Search, which is the best place to buy commodities.
Advanced Search, which gives you better control over search parameters.
My Booth, where you list items for sale.
History, where you collect the money from sales and find items you purchase.
Collection, where you can save item listings for future reference
Categories
The Basic and Advanced Search tabs are further subdivided into multiple tabs.
The tab marked with a sword and shield is used to find Normal, Magic, and Rare items.
The one with a golden star is used to filter Legendary Items.
Next is the category for Legendary Hero Relics or Memories.
Then below it you can find the tabs for Magic Hero Trinkets or Memories.
Finally, the Backpack icon which is used to filter Commodities such as Beacons, Flame Fuel, and Skills.
Pro Tip: Basic Search is best used when all the items you will be looking at are the same such as with Commodities. Use the Advanced tab to buy gear and filter items based on their modifiers.
Trade Tax
When you make a sale on the trade house a portion will be collected in the form of a Trade Tax. There is an exception for the first 200 Flame Elementium in a season. The tax rate is 1 in 8, so for every 8 Flame Elementium you earn through trading you receive 7, and the remaining 1 is added to your Tax.
Exemption Tickets
Trade Exemption Tickets are earned through Seasonal Events. You can use a Trade Exemption Ticket to return Flame Elementium that were previously paid as tax. So for example if you earned 800 Flame Elementium in a single trade you could use up to 100 Trade Exemption Tickets to return of the 100 Flame Elementium collected in tax.
Trade Exemption Tickets are both limited and powerful, but can only be used to return Flame Elementium. When selling items for other currencies such as Flame Sand you are always taxed, think carefully about your pricing.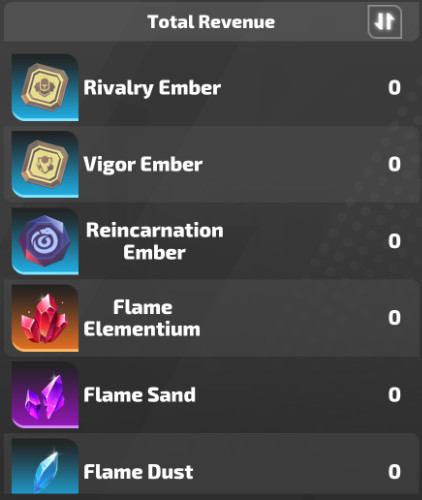 Pro Tip: 1 Trade Exemption Ticket is always worth 1 Flame Elementium, so use them early on to re-invest into your build!
How to Buy Items
When you select a category it lists all items in the category, you can then select an item and browse. Normal Display lets you browse 10 items per page. Use Show Details to 3 items and read the mods without clicking or tapping on them individually.
Purchasing Basics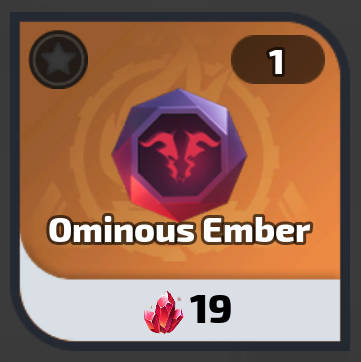 The star symbol at the top left adds the listing to your collection. The item amount is listed at the top right, and the lot price is down at the bottom. So in this picture 1 Ominous Ember is being sold for 19 Flame Elementium.
If you want to buy something click or tap the tile to select, then click or tap the price to purchase. Generally players price cheap items in Flame Sand, and more expensive items in Flame Elementium so you'll be doing most of your trading in these currencies.
WARNING: Some players try to scam by inverting the numbers such as listing 1 of an item for 99 Flame Elementium, or list items for Ominous Ember and hope you won't notice those are more valuable than Flame Elementium, always double check trades before hitting Confirm.
Advanced Search
The Advanced tab is the best tool for searching the Trade House in Torchlight Infinite, since it has filters which are used to easily narrow the results. Base gear is used to choose the Legendary or base item you wish to search. The Search criteria pool is populated based on the mods available on the item. These are case sensitive, and when you add a search term you can set numerical parameters. You should almost always use the Advanced tab when searching for gear.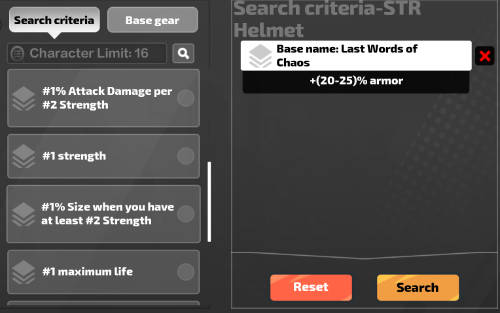 How to Sell Items
To list an item for sale or check a listed item go to My Booth in the Trade House. Trade Slots are shared across all characters, everyone starts with 3 free slots at level 60, this expands to 6 at level 75 and 9 at level 90. Premium Booths are rented for 388 Primocrysts and unlock an additional 12 slots of space for the Season. You also get access to a Premium Booth for reaching level 10 on the paid track of the Season Pass for the current season.
WARNING: Premium Booths are Seasonal you are renting them, not buying them.
Selling from your Inventory
A good way to quickly price check an item is to click the hammer icon in your inventory, you can use the triangle at the bottom left to access additional search filtering, or "List an item" to jump to your Booth to sell the item.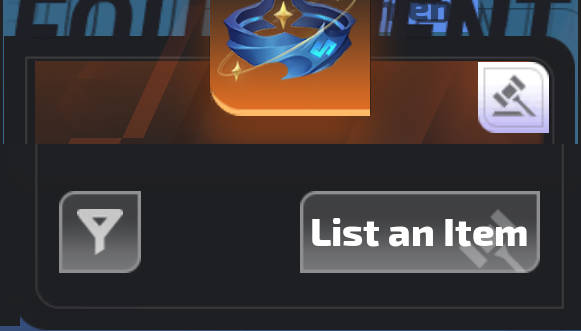 Selling from the Trade House
To list an item for sale go to My Booth, click or tap on the item and then check the following fields.
The quantity you are selling.
What currency you want in return.
The total price for the stack.
Double check everything, especially currency.
Click or tap For sale to create the listing.
After you list an item there is a random delay before players can see it. This is to prevent abuses of the trade house, don't panic if something takes a bit to sell. Listings last 24h by default, you can refresh a listing with the Refresh duration button, tap or click a listing to remove it or select Batch remove then select multiple items to remove all of them at once. If an item doesn't sell for a day try lowering the price then re-listing it. A lot of what you list will sell within a couple days but sometimes players just aren't interested in the item, or your price was far off what people are willing to pay.
History
This tab shows completed trades, you claim purchased items and profits from your sales here. Click or tap on a trade to claim the item, or use the Claim all button at the bottom. You can see previous listings or if you're done with them use the Delete record button to clear the listing.
Collection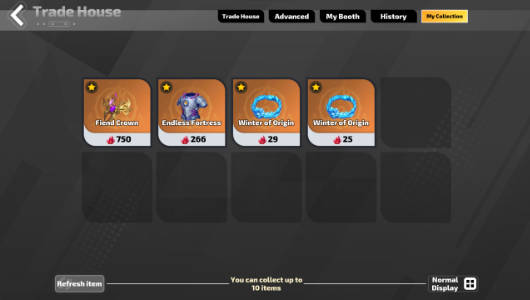 Add up to 10 listings to your collection using the star at the top left. These items stay pinned and you can go back to them later. If you're considering buying an item but don't have the money yet, or just aren't sure if it's something you need, add it to your collection and decide later.
WARNING: The Collection does not reserve the item for you, so don't take too long to decide!
Video Guide
Summary
Trading in Torchlight Infinite is an important part of gearing your character. Here's how to buy items for your build and sell the loot you find.
Use the Basic Search for commodities, and the Advanced Search for gear.
Use sub-categories to narrow down your search.
Click or tap an item to select it, then click or tap the price to purchase it.
Use Trade Exemption Tickets to return

Flame Elementium

paid as tax.
When buying an item always make sure the amount and currency are correct!
Sell an item in the My Booth section or by clicking/tapping the hammer icon at the top right.
You get up to 9 trade slots for free, 12 from the Paid Season Pass and can RENT more in the shop.
When selling an item double check the amount, currency, and price before listing it.
Use the History section to collect purchased items or the currency from sales.
Save items in the Collection section if you want to purchase something later.
Credits
Reviewed by Facefoot, Xtra37.
Changelog
5 January 2023




Published for Season 2