---
With the Server Slam Weekend Event just around the corner, the Diablo team is at it again with another big update! Rod Fergusson (Diablo Franchise General Manager), Joseph Piepiora (Associate Game Director), Kegan Clark (Product Management Director) and Adam Fletcher (Community Lead) give us our first true glimpse of seasonal content, a further deep dive into the Battle Pass, show off more great Cosmetics, and more! Read below on all the key takeaways from this update.
---
Seasons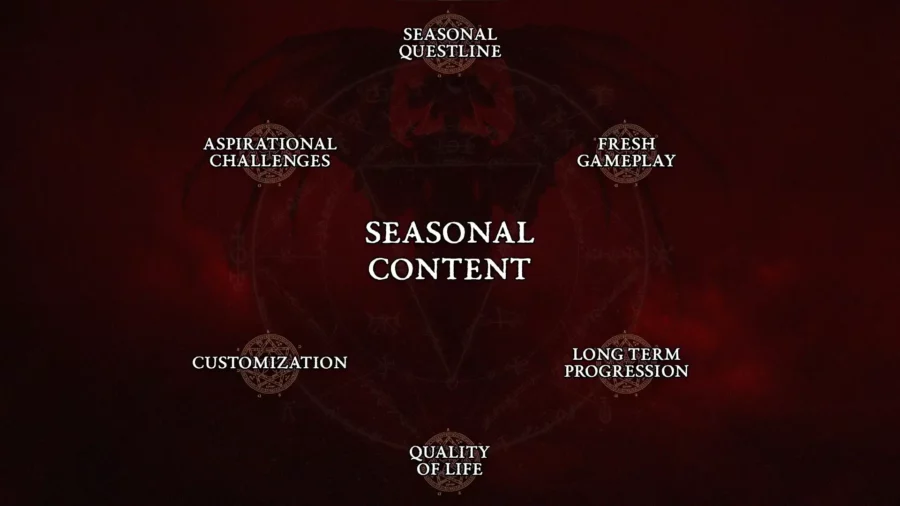 Diablo 4's first season starts shortly after release (mid to late July).
Seasons last for three months (four a year).
There is a strong seasonal theme driving all parts of a season.
There will be a seasonal questline. It is intended to be a new avenue to introduce new characters and a self-contained story. Main story elements will be saved for future expansions.
New features can be introduced each Season, providing fresh gameplay per, but are retired at the end. This keeps the game at an expected level. However, this doesn't outright prevent certain season features from ever becoming part of the base game.
Season Journey is coming back!
Separated into chapters with objectives. You do not have to complete all objectives of a Chapter to finish it, allowing for some player agency.
A certain set of Codex of Power Aspects (that change seasonally), along with Caches of items, are rewarded through the Season Journey by completing Chapters. These can contain Aspects that were added in the respective Season.
Completing objectives also earn you Favor towards your Battle Pass.
New Legendary and Unique items are added per season that will stay after it ends!
Characters get merged to the Eternal Realm after a season ends.
Season Journey/Blessings are account wide, so they are not lost on Hardcore character death.
---
Battle Pass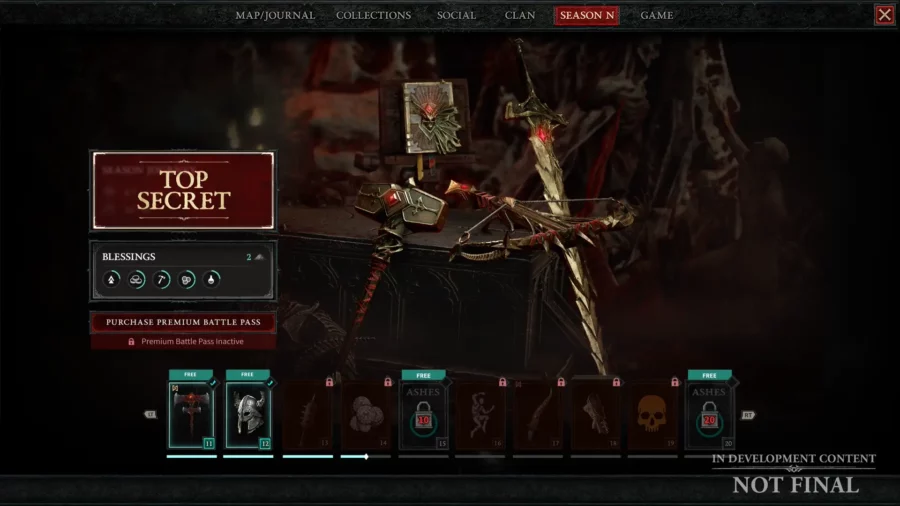 Three tracks to the Battle Pass:

Free: 27 total unlocks.
Premium: Costs 1,000 Platinum (equivalent of $9.99 USD).
Accelerated: The same as Premium but with a 20 Tier skip. Costs 2,800 Platinum, equivalent of $24.99 USD). 64 additional unlocks on top of the Free Tracks 27, 90 total. Contains two full armor sets per class.
Platinum can only be bought with real life money.
Platinum can be earned on the Premium & Accelerated Tracks to buy Shop Cosmetics or be put towards future season Battle Passes. [UPDATE] It has been confirmed you won't be able to save enough Platinum from the Premium & Accelerated Tracks to pay for (in full) your next season's Battle Pass.

Season Blessings are different buffs that help accelerate your progress through a season.
Use Smoldering Ashes to power up Seasonal Blessings. There is a secondary level requirement on every Free Tier of the Battle Pass that contains Smoldering Ashes. This prevents pay to win, even with the Accelerated Battle Pass!
Smoldering Ashes can only be earned on the Free Track. [UPDATE] It has been confirmed you CAN refund Seasonal Blessings to shift Smoldering Ashes to a different Blessing. There is a Gold cost that increases each time you refund.
Battle Pass unlocks are class neutral, Shop are class specific. Can mix or match pieces from an armor set.
Battle Pass and Shop cosmetics are account wide.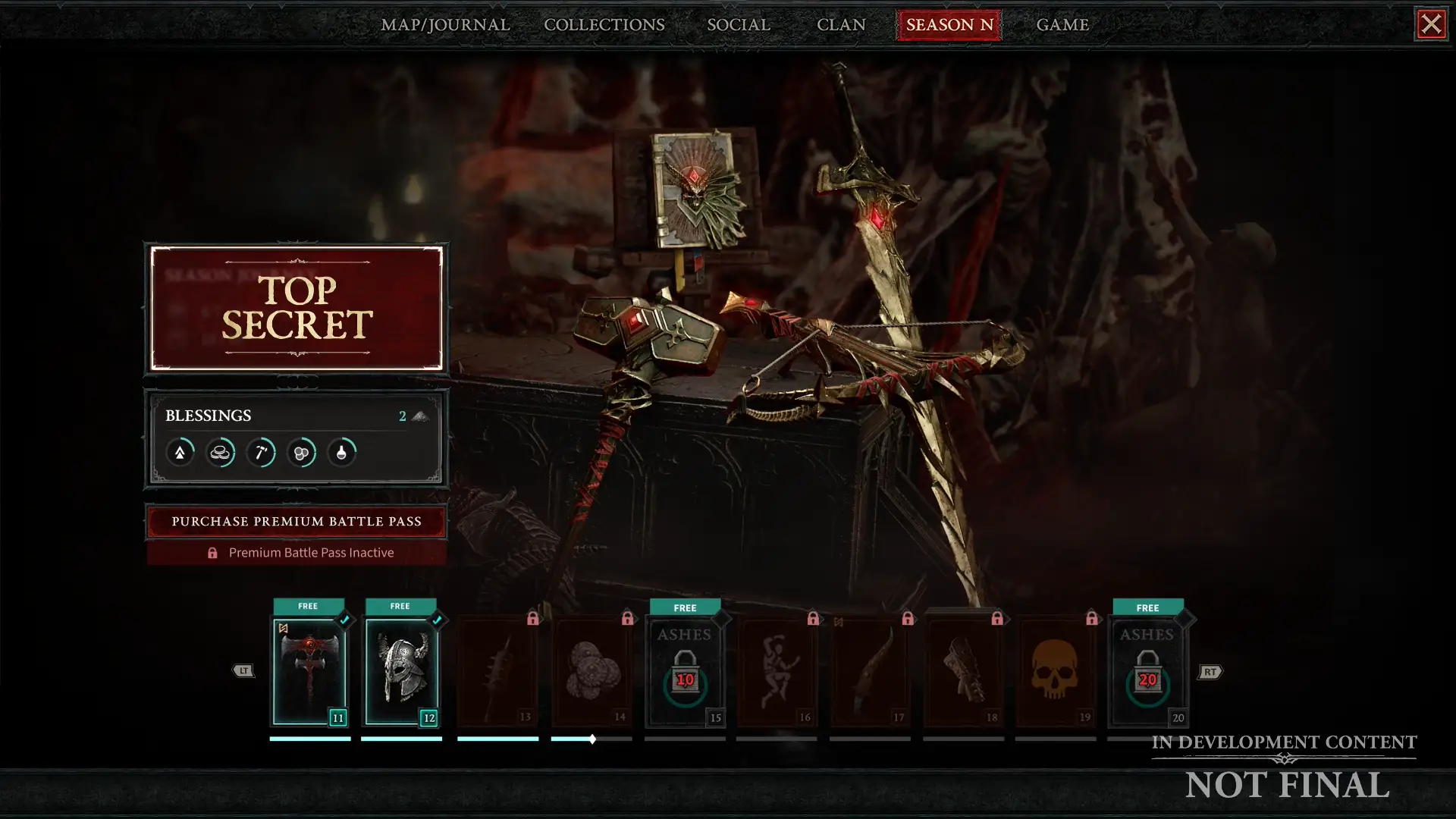 ---
Cosmetics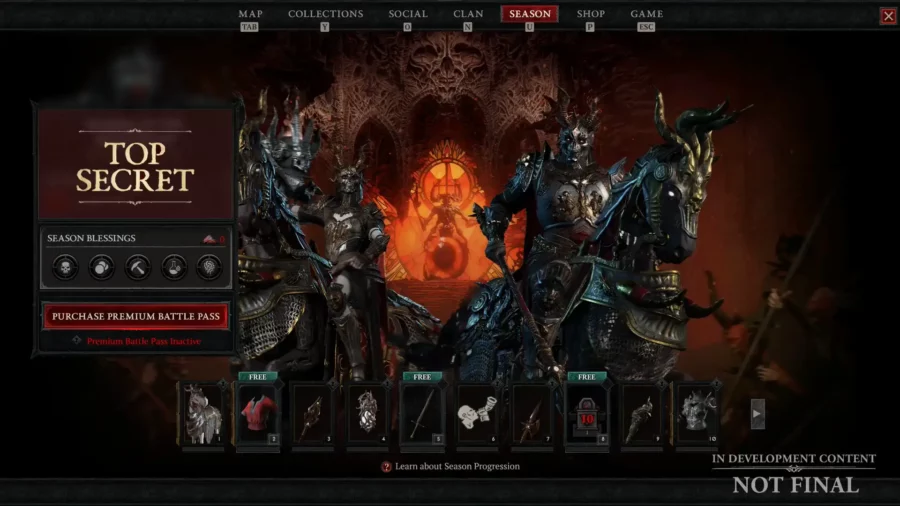 Rewards range from role-playing clothing, armor, mounts, emotes, headstones, etc. all themed for the Season.
There's a regional look for armor pieces you collect in the world.
The Shop provides additional ways to customize your character, but stay within the grounded fantasy of the world of Diablo 4.
In-game and Shop items can be recolored.
Shop items will rotate weekly, but can come back. A "Recommend" section of the shop will learn what you play and like for better deals, so one player's Shop may be slightly different from another.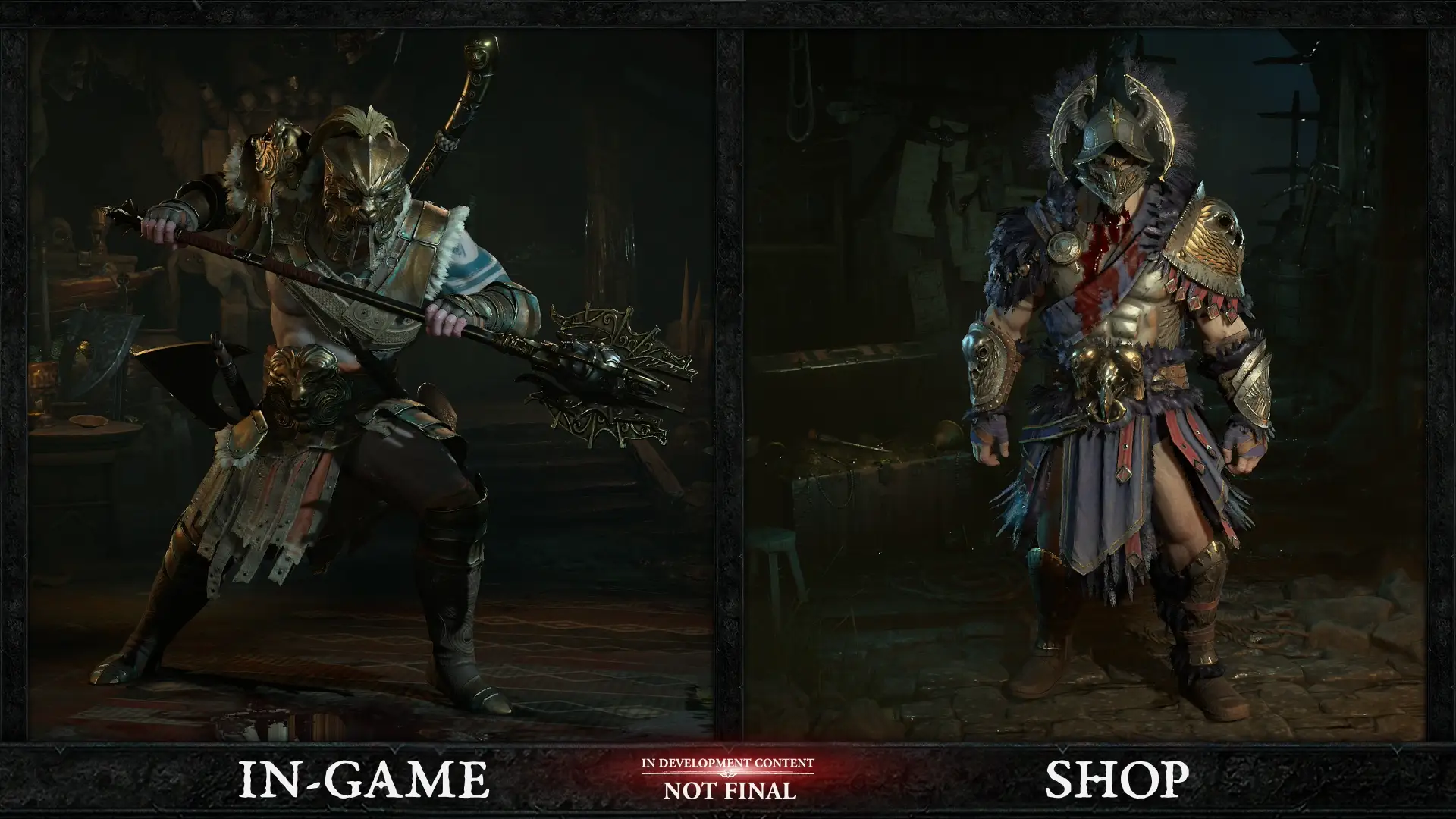 ---
Other Learnings
The Mount is unlocked by advancing the campaign until you reach and complete the required quest. After that point, it's an account wide unlock for all characters, for all future seasons. You can be a Level 1 character, starting a season with a mount.
Altars of Lilith once found, apply their buff permanently to all your characters, from season to season. You can still find them in a new season to progress your Renown. The plan is not to move them around the world between seasons.
Quality of life for players is a top priority. Taking in and reacting to player feedback is something the team wants to do as quickly as possible.
Aspirational Challenges are a big part of seasons. The goal is not to make the game longer and longer with new content. Add new pinnacle content, tough encounters, Bosses, etc.
Leaderboards won't appear in season 1 or (most likely) 2. The team is working towards adding them, but want to do it right.
---
Diablo 4 Approaches!
The Maxroll Diablo 4 Team will be bashing the demon hoards when DIablo 4 launches in June! We can't wait to see you on the battlefield with us. To stay up to date on when new guides drop, head over to our Discord and select the D4 role in #roles channel.
---
---