Introduction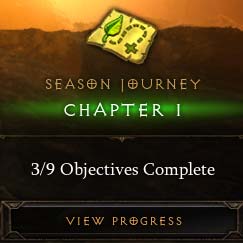 Season 24 is upon us and we all know that means one thing, another Season Journey to accomplish! In this guide we'll explain what the Season Journey is and how you can complete it to obtain its amazing rewards. To find the Season Journey click the progress tab on the Main Menu screen or click the Map Icon in the upper right of your interface while in game. This can only be completed once per region, per Season but the array of rewards that come with it are well worth your time. The Season Journey is a great way to get your Season going as it provides a framework for building up a character to become stronger and provides the player with a full 6 piece Class Set after finishing the first 4 Chapters.
---
Haedrig's Gift
When going through your Season Journey you'll find that Chapters II, III, and IV offer Haedrig's Gift as rewards, this is what most players do the Season Journey to obtain. This gift bag will be sent to your Mailbox where you can claim it to receive 2 items for your specified Class set. The first 2 can be obtained very easily and can result in a tremendous power boost for some classes, obtaining all 3 bags yields the entire Class Set and paves a path for your character to dominate going forward. In Season 24 each Class will have the following sets available in Haedrig's Gift: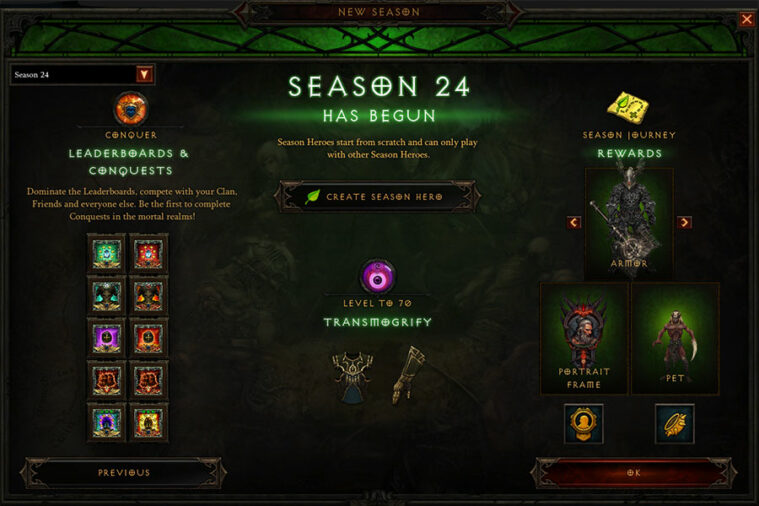 Each Season the Class Set rotates to a new one, giving players easy access to all of these sets over multiple seasons. Some Seasons a certain Class may have a much stronger Haedrig's Gift Class Set than the others but this season they are all pretty mediocre. Haedrig's Gift is not determined until you open the gift, so you can collect Haedrig's Gift and open all of the bags on a different character to obtain the Class Set if you desire. This is a fantastic way to gear up a second character if you're able to complete this portion of the Journey without needing the Set items to do it!
---
Efficiency
When stepping back and looking at the entire Season Journey as a whole you'll notice that there are a lot of Objectives spread across multiple Chapters that synergize well with each other. For example you'll find that you're required to spend a considerable amount of time going through Acts I-V doing Bounties, killing Bosses and hunting Keywardens. Some of these objectives only require a low difficulty and can yield great rewards early on for progression. However if you're able to bump up the difficulty to Torment IV+ early on, you can accomplish many objectives in a single round of Bounties as you can kill all the Bosses and Keywardens while doing them. Keep in mind as you are going through your Season Journey that you can complete any of these objectives at any time but that you must complete all of a Chapter's objectives before being able to receive rewards from a subsequent chapter.
---
Summary
Congratulations if you've made it this far you've completed your Season Journey and have obtained Haedrig's Gift, the portrait frames, stash tab and Pets! The cosmetics are exclusive to Season 24 and shall be your tokens of Glory moving forward to the next Season, no one can deny your accomplishment and many shall envy you. If you're looking for more challenges beyond the Season Journey check out the other Season Conquests.
Until next Season - Facefoot
---
---